Owning a tractor-trailer gives a driver more control over their professional future. Drivers who do not rely on using company tractor-trailers are able to start their own businesses or to apply for positions with companies that require drivers to own their own tractor-trailers. Purchasing a tractor-trailer with bad credit is not impossible. There are ways to buy a tractor-trailer with repossessions, collection accounts or bankruptcies on your credit report.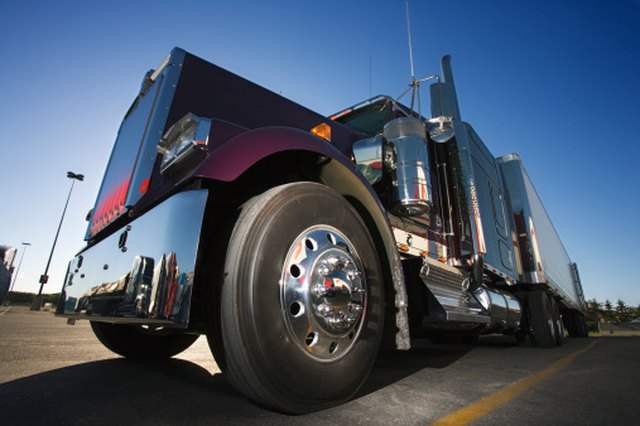 Owner Financing
Step
Search for tractor-trailer private sale listings in your area. Check local newspapers and Internet classified website ads. Also, visit local trucking website communities, and search for posts made by people who want to sell their tractor trailers.
Step
Contact a tractor-trailer owner who is willing to sell. Explain your credit situation, ask for owner financing and offer to make a large down payment. If the debts damaging your credit report are old or incorrect show the seller proof that those bills were paid. Suggest setting up automatic bank transfers to make your monthly payment. Be willing to provide the seller with proof of employment and your home address.
Step
Request or prepare a sales agreement documenting the down payment and monthly payment amount. Include a payment due date in the agreement along with acceptable payment methods. Sign and notarize the agreement with the original owner to complete the transaction.
Employer Financing
Step
Talk to your employer about the possibility of buying the tractor-trailer you are currently driving. Companies searching for ways to replace older tractor-trailers are often willing to sell to employees. Financing through an employer is a low-interest or interest-free alternative to dealership financing. Offer to make a down payment, if necessary to reduce the amount you need to finance.
Step
Sign an agreement with your employer that outlines the payment terms and due dates. The employer may require a clause allowing them to take possession of the tractor-trailer if you resign before making the last payment.
Step
Negotiate payment terms and arrangements with your employer. Find out the total amount of the vehicle and the amount of money you will pay monthly. Request to have payments taken from each paycheck, especially if the loan is interest-free.