Bohemian is an eclectic and popular style that is typically characterized by bright colors, multiple patterns and textures, and a whimsical air. Also known as "BoHo," other design styles often associated with bohemian include "shabby chic" and "gypsy." Fortunately for the artistic free spirit, BoHo decorating can easily be done on the cheap, provided you use a bit of imagination and ingenuity.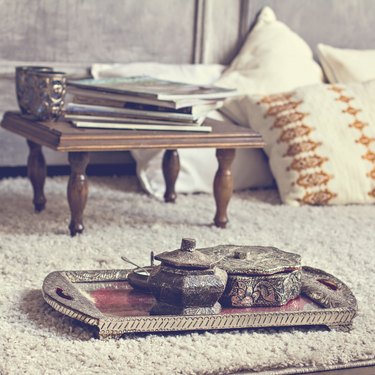 Elements of Bohemian Design
The great thing about the bohemian design style is that everything matches simply by not matching. This means you can procure design pieces from a variety of sources including thrift shops and garage sales. Some designers opt for a theme that encompasses particular colors or patterns, but the good news is that the ultimate design can be uniquely yours, based entirely on your personal preferences.
Color!
Most forms of BoHo design incorporate traditional gemstone color palates with purple, mauve, peacock greens and blues, and gold accents. Multiple patterns are also desirable; for example, you might want to pair a red velvet sofa with a silky gold throw that has eggplant scrolls. The wonderful thing about this style is that you can create it inexpensively — stores often discount items when they hit low volume, so you might be able to purchase high-quality accent items like towels, pillows and bedding when they come in singles or open-box displays.
Fabrics
Fabric plays a starring role in bohemian design, particularly sheer fabrics with metallic threading, hemp fabric and batiks. Hand-woven fabrics are also excellent accents, as are eclectic collections of ribbons, braided cording and mixed media elements. For example, consider funky thrift store curtains with miss-matched scarf backs, and discount store pillows adorned with wraps of multicolored yarn from the scraps bin at the fabric store. You can also buy multiple-pattern scatter rugs from close-out flooring stores or tag sales.
Found Items
Maybe you find an unusual brass lamp base in your apartment dumpster and come across a plain-yet-viable lampshade in your grandmother's basement. BoHo it out by adding some dangling fringe or beaded rick rack along the bottom and voila, a unique decorating piece! Found items can be a great inexpensive way to decorate bohemian, especially if you have an artistic flair. Once you let family and friends know you're in the market for their unwanted items (for free!), you can start creating your own fun look.
Re-purposed Items
Just about any regular design item can be turned BoHo with a bit of effort. Mismatched dining room chairs from a resale shop can be dry brush painted with inexpensive craft paint for a funky finish, and old picture frames can be adorned with antique metallic spray paint and hung around an unusual item like a feather plume or an unusual eclectically-patterned plate. You don't even have to use items for their originally intended purpose. You can stuff an old hat box with silk flowers or greenery and make into a centerpiece. Any kind of artwork that catches your fancy can also be incorporated into a bohemian design. Estate sales are great places for these unusual and typically inexpensive finds.
Lighting
Lighting can help set the mood when it comes to BoHo design. Clearance bin Christmas lights can be re-purposed into hanging decor after the holidays, and dollar store mirrors make great bases for reflecting candlelight. Even old lamp shades can have a new BoHo life by recovering them with flame-resistant batik fabric swatches. Of course, the most vital element of bohemian design is using your personal style and taste and not considering anything off limits. Avoid "matchy-matchy" items and instead, shop clearance sections, post-holiday sales, tag sales, garage sales, resale, consignment and thrift shops and even estate sales (go on the last day of a sale for steep discounts) for inexpensive unique finds.