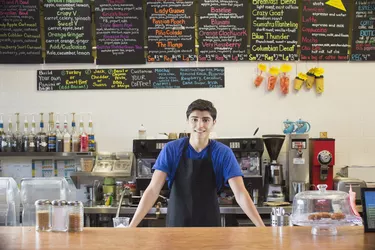 Hourly wages for teens vary based on the type of job and the experience level of the teen, as well as the skill level required to do the task. A good hourly salary for teenagers may vary based on the teenager's experience and the type of job they would like. Some positions such as in hospitality, deliveries and restaurant work add tips to the base wage, which generates income beyond the hourly wage. Some jobs fit the needs of working teens better than others.
Federal Minimum Wage Requirements
There is no such thing as a teenager minimum wage; the minimum wage for teens is just the federal minimum wage. That said, a good hourly salary for teens may exceed the minimum wage.
The U.S. Department of Labor establishes the very least a teenager earns by setting the minimum wage, and these amounts vary by states. The conditions that apply to each state's minimum wage law also vary by state. The U.S. Department of Labor offers an online clickable map for determining the minimum wage law in your state.
The DOL explains that the Federal Labor Standards Act set federal minimum wage at ​$7.25​ per hour nationally, though. This was effective July of 2009 for nonexempt employees who qualify, and it still remains this amount today.
A common job that teenagers choose is babysitting. According to Care.com, babysitters could charge ​$15 per hour​ for one child, ​$16 per hour​ for two children, ​$17 per hour​ for three children and so on. The hourly rate varies widely due to the geographic location, the number of children you must tend, the sitter's experience and any other special requirements stated by the parents.
For instance, the parents may want you to just entertain and feed the child(ren) on one assignment while another parent may need you to tutor the child in her studies, tend a special needs child or do housekeeping in addition to the child care. How many children you sit, the time of day you sit and the age of the child(ren) all play into the recommended pay rate.
Working as a waitress, waiter or takeout delivery driver for a popular restaurant earns teens an hourly rate plus tips. You may get to eat leftover foods as a fringe benefit. These better restaurants often pay more than fast food restaurants where you typically work for minimum wage.
Lifeguards earn a good hourly wage once certified. In retail shops or stores, teens can earn well above minimum wage. That said, sometimes you must start at minimum wage and work your way up the pay scale. Landscaping or yard work can earn the teen a good hourly wage, or you can find your own customers. Be sure to properly collect sales tax, if applicable, and pay quarterly income taxes if you are working as a self-employed individual. Even teenagers are subject to these laws.
During the school year, working full-time typically is not possible or permissible for teenagers. It also isn't advisable, as this would detract from a student's ability to succeed in school. However, part-time workers are more likely to earn minimum-wage paychecks, so teens may want to consider a full-time summer position if they want to earn a good hourly wage.
Depending on the job you choose, a good hourly salary may also come with benefits, like paid time off, health insurance or even retirement investment options like an IRA or a 401(k). You should check a company's employee handbook for details, and be sure to ask lots of questions before you commit to a job to make sure it will work for your budget and other financial needs and goals.