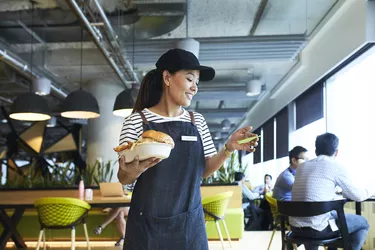 The minimum wage doesn't mean the same thing everywhere in the country. Because the cost of living varies so much between states and regions, the minimum is different depending on where you work. That means that a minimum wage worker's annual salary or annual income will also differ. The minimum wage in California in 2022 varies in different parts of the state, and you'll want to know how those translate to annual salary or overall income. Keep in mind that all of these numbers are before taxes are deducted.
Minimum Wage in California 2022
The minimum wage varies significantly throughout the Golden State, but the state itself has a legally mandated minimum wage that no business in any of the cities, counties or other municipalities can pay beneath. That amount is ​$15 per hour​, which is well above the federal minimum wage of ​$7.25 per hour​. In many areas of California, though, the minimum wage is higher than ​$15​.
What Is the Minimum Salary in California?
Especially for full-time employees, many employers choose to pay a salary over a year rather than calculate wages hourly. Even though these staff members don't keep track of their hours, they're usually expected to work at least ​35 to 40 hours per week​. According to Berliner Cohen, the California minimum salary for exempt employees in 2022 is ​$58,240​. This amount sounds like a lot, and it equals about ​$28 per hour​ for ​40 hours of work​, ​52 weeks per year​. It is very close to the minimum wage yearly salary in New York City.
The California Department of Industrial Relations notes that some of the employees that are exempt from minimum wage requirements include outside salespeople, individuals directly related to the employer and apprentices for certain trade jobs. However, exempt employees are often expected to work more than 40 hours per week without any overtime compensation. You should take that into consideration before accepting a position.
Average Salary for $15 an Hour
If a person worked exactly ​40 hours per week​ for ​52 weeks a year​ at ​$15 per hour​, they would earn a ​$15​ minimum wage annual salary of ​$31,200​. Remember that number does not include other benefits that employers may be obligated to provide, such as paid time off, holidays and health insurance. Employers would also be required to pay overtime for any hours over 40 worked.
This amount is much lower than the minimum salary for exempt employees. If you're accepting a full-time job, you should advocate for the highest pay you can receive. The expectation is that a person can fully support themselves on the compensation received from a full-time job, so it is reasonable to ask for more when hired.
How much does a minimum wage job pay per year part-time? That depends greatly on how many hours an employee works; if they work ​20 hours per week​ for ​48 weeks​ at ​$15 per hour​, they will earn ​$14,400 per year​. If they work in San Francisco (​$16.99​ minimum wage beginning July 1, 2022), they'll earn ​$16,310.40​. Keep in mind that jobs are considered part-time when an employee works fewer than ​32 hours per week​. Once your average number of hours worked exceeds that number, you may be eligible for additional benefits from your employer.