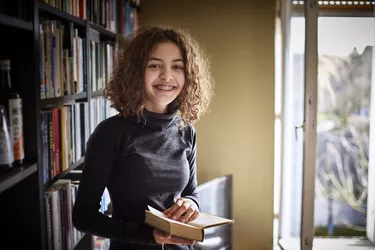 Finding work as a teen is easier than ever, now that social media marketing is either free or low-cost, letting you advertise many different services you can offer. Job opportunities are plentiful if you're willing to do hard work, work during the summer months and have a good work ethic. You can make thousands of dollars each year working part-time while you're in high school. Finding work is not the same as getting a job, however, which can be trickier at age 13 due to employment laws.
Whether you want an in-person job or want to make money online, reviewing your options for making money as a teenager will help you find the right situation for your needs (such as after school) so you can start helping your family pay bills, earn extra money for college or generate your own money for your monthly spending.
As you begin looking for work, you should understand the difference between working as a contractor and working as an employee. An employee works directly for a company, usually full- or part-time, and is paid a set hourly wage or salary. Employees have to follow specific company rules and might not be allowed to take another job.
A contractor is someone who does work on a contract basis, meaning you work for a limited amount of time and have more freedom to do the work as you wish. Examples of contractors are house painters, babysitters, landscapers and pet sitters.
Check Your State's Labor Laws
If you want to work for a local business, such as working as a restaurant server or dishwasher, grocery stock person or cashier or in another employee situation, check your state's labor laws. Employers might not be allowed to hire 13-year-olds, especially if the work falls under the guidelines of the national Fair Labor Standards Act (FLSA).
You can search for your state's department of labor or information about child labor laws, or ask the human resources manager at a local business if they can help you understand what your state's employment laws are concerning teens and any minimum age requirements. For example, in Georgia, minors can work for a business as young as 12 years old, in some situations.
Complete Job Applications
The best way to find a job in your area is often to visit stores where you'd like to work and ask if you can fill out a job application. Based on your age, the person you talk to might say, "Hmmm, let me get a manager." That's a good thing because a manager will be able to tell you right then and there whether or not the business hires teens, and you won't have to wait for a week or more to hear. If there's a labor shortage in your area, you might even find that employers are happy to hire you.
If you can't visit all of the businesses where you want to work, start your job search by calling and asking to speak with the hiring manager about applying for a job. You might be told by a receptionist, "Please come in and fill out an application, or give me your address and I'll send you one," or, "Please fill out an online application." However, you'll want to know if you'll even be considered first, so politely respond, "I'd like to ask him or her a question about whether or not you hire teens."
If you will be filling out a paper job application, ask for two copies. If you make a mistake on one, you can fill out the other one. Try to hold off on filling out anything until you have read all of the questions first. Be prepared to have the names and phone numbers of two or more references you can use. You might also need parental consent on the application.
Look at Apprenticeships/Internships
If you know what career you'd like someday, such as owning your own landscaping company or working for a veterinarian, contact those businesses and ask if they offer internships or apprenticeships. Internships often don't pay, or don't pay much, but you'll get invaluable experience to put on future job applications. An apprenticeship is a type of job that focuses on training and often falls under FLSA or state employment law guidelines for teens. Ask friends, neighbors and family members for introductions to businesses that might offer you your first job.
If you want to get started earning money and are willing to work more than a few hours per week (such as summer jobs or on weekends), consider starting your own business. Look at options like:
Babysitting
Dog walking or pet sitting
Lawn mowing and yard work, such as raking leaves
Simple housecleaning
House-sitting
Washing cars
Tutoring
Laundry cleaning
Basic tech support/training
Garage sale or yard sale
You'll find many helpful websites for almost any kind of business you want to start, just by doing an online search for terms like, "How to start babysitting," or "Making money mowing lawns." SmallBizTrends.com offers 50 different ideas for jobs for teens that pay good money, including part-time jobs and online jobs.