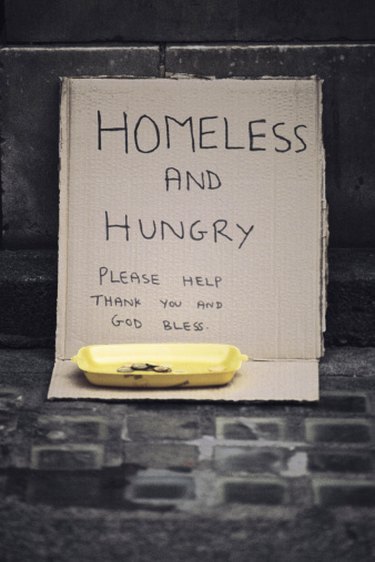 Government assistance, sometimes referred to as handouts, is commonly known as welfare. Welfare programs are designed to provide low- or no-income families with basic needs such as food, health care and housing. Federal money is provided to individual states that administer funds differently from one another. Most states allow families to use a single application to apply for an integrated welfare package. The package includes Temporary Assistance to Needy Families (TANF), Medicaid and the Food Stamp Program (FSP). This package provides a modest amount of money, health insurance and funds strictly for food. The application process varies by state, but there are common steps.
Step 1
Apply for welfare. This can be accomplished online in many states but not all. Either apply online or go to the office of the state agency that administers welfare. These agencies' titles vary by state. For instance, it is called the Department of Human Services in Arkansas and the Department of Social Services in California. A complete list of state programs that administer welfare is available on the U.S. Department of Health and Human Services' website. Application forms seek basic information about your income, assets, work history and family members.
Step 2
Wait for initial screening to occur. Upon receiving requests for welfare, state agencies review applications to determine whether applicants are in need of immediate assistance. Some states may deny welfare to applicants during the initial screening but determining ineligibility usually occurs at a later stage.
Step 3
Complete any tasks that your home state requires before it administers welfare. Many states want to encourage welfare recipients to become productive workers and to become self-reliant at a future date. For this reason, many states require welfare applicants to attend orientations regarding program rules and to be actively looking for work. In New York, applicants are also required to have fingerprints taken and submit to a home visit by the state agency.
Step 4
Attend an eligibility interview. The state agency that administers welfare where you live will contact you to schedule an interview with a state employee. You will need to go to the agency's office and meet with a state employee, who will review your application and help you complete it if necessary. The state employee will ask you questions to verify information on the application. The agency may ask you to bring supporting documents such as proof of income or proof of legal residence if you are a non-citizen. Not all states require an eligibility interview.
Step 5
Wait for the eligibility determination. The state agency where you applied for welfare will consider your application, whether you've completed all requirements and your eligibility interview when making its final decision. The decision-making process is different in all states, but each uses a formula accounting for your income and assets to determine whether you are eligible for welfare. It is easier for families with children to qualify for welfare than for individuals.