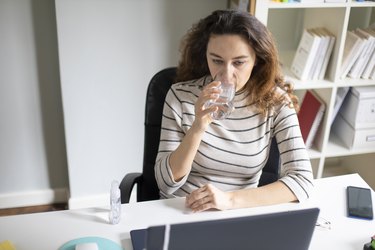 In Illinois, unemployment recipients must certify online or by phone that they are eligible for benefit payments every other week. There are no provisions for weekly certifications or benefit payments, nor can recipients certify for benefits before their assigned certification date. If you miss your certification date, you can certify your claim on days designated as "open" for filing missed certifications.
Unemployment Insurance Program
When a person becomes unemployed for reasons that are out of his control, he may be eligible for unemployment insurance benefits. Unemployment benefits provide limited cash assistance while the unemployed worker looks for a new job. Further, COVID-19 has led to the Pandemic Unemployment Assistance program that offers additional eligibility for those who've lost their jobs, faced hour cuts or had to temporarily leave work due to the pandemic.
Each state administers its own unemployment insurance program. In Illinois, the Illinois Department of Employment Security (IDES) manages unemployment benefits and services for those living in or claiming benefits from Illinois. Along with getting state benefits, individuals impacted by the pandemic may receive an extra $600 payment federally through July 2020.
Unemployment Certification Process
Every other week, you must contact IDES and certify that you are eligible for unemployment benefits. To certify, you normally must complete a short questionnaire that asks about your earnings, work search and availability for work over the past two weeks, but Illinois has temporarily suspended the work search requirement due to COVID-19. However, if you got laid off due to a closure, you're expected to return to work when you're called back.
If you qualify for benefits, you will usually receive a benefit payment within three days. In Illinois, you can complete the certification process online or through the Teleserve phone system.
Unemployment Certification Dates
You must certify every two weeks to receive your benefits. After you apply for unemployment benefits, IDES assigns you a certification day, which is either a Monday, Tuesday or Wednesday. After you certify for benefits, IDES sends you a confirmation letter that includes a reminder of your next certification date. If you forget to certify on your assigned date, you can certify on Thursday or Friday, which are open certification days.
You an also certify on the day you would normally certify during the next week. For example, if your normal certification date is on a Tuesday, and you forget to certify on your assigned day, you can still certify on Thursday or Friday of that same week.
If you try to certify at other times, the system tells you to call back on your assigned day or on an open day. You cannot certify early for benefits and failing to certify as instructed can cause you to lose your benefits.
Receipt of Payments
In Illinois, you can choose between having your payments deposited to a debit card or directly into your checking account. You cannot receive your benefits via paper check. Benefits post to your account or debit card within three days after you certify your unemployment eligibility. Your method of certification – phone or Internet – has no effect on your benefit payment date.