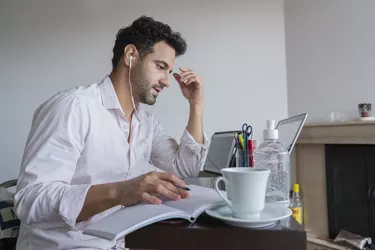 The unemployment insurance program in Illinois can provide you with as many as 26 weeks of benefits if you face hour cuts, a layoff or another employment issue of which you have no fault, and the federal pandemic programs can offer extended benefits. However, the state first has to verify you qualify for unemployment and will notify you via a letter. While you wait, you can use the state's phone system and website to stay on top of your claim status. These systems are currently available during certain hours of the day.
Your Illinois Unemployment Application
Whenever you apply for Illinois unemployment benefits, the state will look at the information you provided and reach out to your employer to determine if you meet all the qualifications. This includes having a valid reason for unemployment that typically excludes voluntarily quitting or getting fired due to misconduct. Further, Illinois requires that your work history shows you making at least $1,600 during the base period used and at least $440 in your highest quarter.
However, the Federal Pandemic Unemployment Compensation program can make it possible to receive benefits even if you don't meet Illinois' work history requirements. In that case, your reason for unemployment will need to be due to the pandemic. For example, you might be a part-time worker at a restaurant that shuttered due to the shelter in place order, or you might be an independent contractor who lost your clients due to COVID-19.
Checking Illinois Unemployment Claim Status
After you've submitted your initial unemployment claim in Illinois, you'll usually get an unemployment finding letter in seven to 10 days that will provide the results of your application. You'll see past earnings listed along with how much you can expect weekly and how much of an unemployment balance you'll have total. However, you have two ways to easily check the status while you wait for that letter.
You can visit the website for the Illinois Department of Employment Security and access your claim information daily except for between 8 p.m to 10 p.m. local time. If you applied for unemployment online, you'll already have your user name and password. Otherwise, you can find a link to register for an online account if you had applied by phone. Once you log in, you'll see your claim and check its status as well as check your payment history and certify for benefits in the future.
Alternatively, you can use the Tele-Serve system by calling 312-338-4337. This system operates between 3 a.m. and 7:30 p.m. local time and will require that you create a personal identification number before you can proceed. You'll use that along with your Social Security number to identify yourself in the system and can press "3" to hear about your unemployment claim status.
Getting Approved for Benefits
Once you get approved, you can come back to the IDES website or call Tele-Serve every other week to file your certification on the day specified in your determination letter. If you can't file on that day, Illinois allows you to do so on Thursday or Friday during your certification week. Provide accurate earnings information to avoid problems like unemployment fraud or payment delays.
Traditionally, Illinois expects you to register for work and report on your job search; however, there's a temporary waiver due to COVID-19. Keep the state informed, though, of any new earnings. And if your employer reopens, the state usually expects you to return to work.
Getting Denied for Benefits
If Illinois finds you not eligible for unemployment benefits, you have 30 days to take action and appeal to the state. This involves filling out a form that asks you to describe in detail why Illinois should reconsider your application. You'll need to fax or mail your packet since the IDES offices are currently closed.
The state will determine whether to deny the appeal or set up an appeal hearing where you'll submit your evidence and speak on the phone to defend your claim. Continue certifying regularly while you complete this process.