After applying for unemployment benefits in Illinois, the Illinois Department of Employment Security will mail you a determination letter. However, you can check the status of your application sooner by calling TeleServe, IDES' automated information line. Be prepared to provide such information as your Social Security number and PIN, a security number created when you first call in.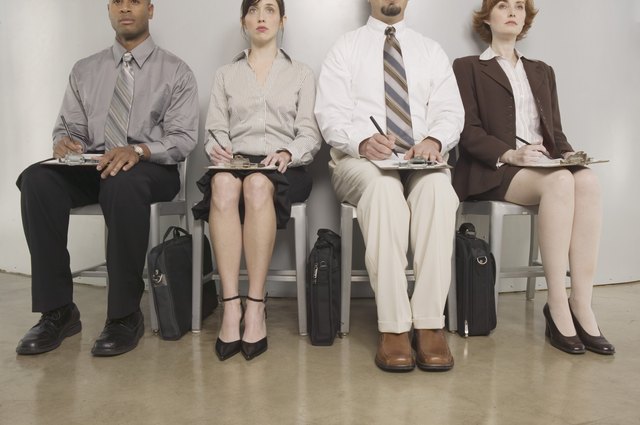 credit: Brand X Pictures/Stockbyte/Getty Images
Applications Accepted In Person and Online
The Illinois Department of Employment Security recommends filing for unemployment the first week after you become unemployed. You can file in person at a local IDES office or online at www.ides.illinois.gov. You will need to provide such information as your Social Security number and your spouse's, past employers and your spouse's current employment status, proof of earned wages, any retirement income you are receiving and any earnings from part-time or odd jobs you worked while unemployed. You must also provide your children's names, birth dates and Social Security numbers.
Determination Letter Mailed
After filing your unemployment compensation claim, IDES will mail you a statement of finding. If approved, this statement will disclose such things as the amount in weekly benefits you are to receive and maximum amount of benefits you are eligible for. If denied, you can appeal the decision, but must do so within 30 days of the denial notice being mailed to you. Your appeal can be submitted by mail or fax. A hearing will be scheduled where you will be permitted to argue why the denial was improper.
Status Check and Benefit Certification
You don't have to wait to receive a determination letter to inquire on the status of your application. You can call IDES' TeleServe number at (312) 338-4337 for a status update anytime after filing. Information is available Monday through Friday between 5 a.m. and 7:30 p.m. Once you are approved for benefits, you will be required to verify your continued eligibility every two weeks. This is known as certification and can also be done by calling TeleServe. You can also certify by mail or online via the IDES website.
Direct Deposit and Prepaid Debit Card
Illinois gives you the option of receiving unemployment benefits by direct deposit to a bank account or prepaid debit card provided by IDES. The IDES debit card is automatically mailed to you after you are approved for unemployment, along with instructions on how to use the card. To have funds deposited to your bank account instead, you can submit your request to IDES online.