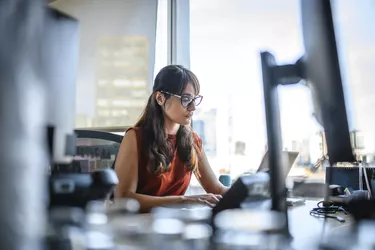 As soon as you file your unemployment claim, your state usually begins working to check your eligibility and potential benefits amount, and you'll continue receiving benefits for as long as you qualify and certify on time. However, you may want to cancel your unemployment claim if you've found work again or made errors on your application. If you call your state's unemployment office, you can often get errors resolved or have the claim canceled if necessary. You can also simply stop claiming benefits to get your claim deactivated. In either case, you can reopen the claim or reapply in the future if you qualify for benefits again.
Contacting Your State's Unemployment Office
Whether or not you've received your first benefits payment, you can reach out to your state if you want to cancel your claim. For example, contacting your state after realizing you made an error on your application can eliminate the need to cancel the claim and go through with applying again. At the same time, asking your state to cancel your benefits after you've found a new job can help you avoid issues like needing to repay benefits you shouldn't have received.
You can usually find the phone number for the claims office along with the operating hours to talk to a representative on your state's unemployment website's contact page or help page. You may also find the option to send a secure message for help by signing into the unemployment portal. Some states may make you fill out and fax or mail them a form to officially cancel your claim.
Discontinuing Weekly or Biweekly Certification
If you've gotten approved for benefits, another way to have your claim canceled is to just stop filing your weekly or biweekly certification. In fact, some states might ask you to just do this if you contact them and have already gotten benefit payments before. Once you miss filing during a period, you will have a break in your claim and usually will see your claim go to the "inactive" or "closed" status if you check it on the state's unemployment website. However, reaching out beforehand is still a good idea.
Alternatively, you may also find an option on your weekly or biweekly certification that asks about whether you've found new employment or met some other criteria for no longer receiving unemployment benefits in your state. Checking such an option will usually close your claim and end your benefits.
Having Your Claim Canceled Involuntarily
In some situations, your state may cancel your claim without your desire for them to do so. This often happens early in the application process when your state finds that your reason for unemployment doesn't qualify you or that you have an inability to work at all. However, it can also happen if you refuse work given to you, give questionable responses on your weekly certification, forget to file regular claims or don't report your earnings honestly. You'll hear from your state when you have a problem with your claim due to these reasons.
Regaining Unemployment Benefits Once Canceled
If you qualify for unemployment benefits again after canceling your claim, then the process to get them back will depend on how long ago you canceled. You can often go to your state's unemployment website or call the office to request to reopen the old claim if it's been less than one year since you originally filed. Otherwise, you'll usually need to start the full unemployment application process again.
Both methods will involve a similar process. For example, you'll answer standard questions about your contact details, identity and past employment. Your state will also confirm what has caused your unemployment and ask about how much you've worked and earned. Your state will go through the investigative process again and send you a determination of benefits letter.