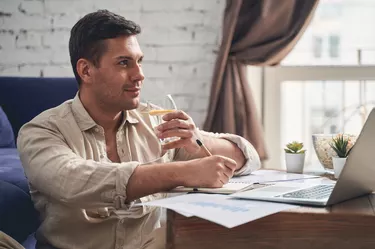 Even if your employer has you work fewer days or hours and doesn't let you go entirely, you can still get partial unemployment benefits in Michigan to help make up for your lost earnings. You'll need to first meet the standard requirements for unemployment when it comes to your ability to work, work history and the reason for reduced hours. However, the federal guidelines stemming from the pandemic can offer some flexibility. Partial unemployment eligibility in Michigan will also depend on how much money you make each week while trying to claim benefits.
Michigan's Basic Unemployment Requirements
Regardless of whether you seek full or partial unemployment benefits, Michigan has some basic standards you have to meet. These include the following:
Unemployment reason: Michigan will require that you didn't do anything to cause your employer to reduce your work hours or lay you off. When you seek partial unemployment, asking your boss to work less won't cut it, but getting a shorter week schedule due to a downturn in business can qualify you. On the other hand, there are some provisions for COVID-19 causes such as needing to take time off work to take care of your child who no longer has care due to daycares and schools closing.
Work and wage history: Michigan looks at the last five quarters of work history and wages to determine your eligibility and potential payment. As of publication, the state checks that you've made $20,458 or higher over four of those quarters and made money in at least two of them. However, you could qualify with a shorter work history and less in earnings due to provisions for COVID-19.
Work status: Michigan expects that you're just temporarily partially or fully unemployed and that you'll work more hours or find a new job when able. This means having a permanent inability to work regular hours won't qualify you. Further, the state usually has requirements regarding seeking work while receiving benefits; however, you won't have to worry about searching for jobs or signing up with the state job registry right now since Michigan has temporarily waived those criteria.

Wage Requirements for Partial Unemployment
Michigan also has some specific rules for getting partial unemployment payments. Along with meeting the general eligibility requirements, your earnings while working in a given week can't exceed 1.5 of the weekly rate that the state has calculated for you. As of publication, the state uses your last 18 months of earnings to decide how much you could receive weekly, up to a maximum of $362 a week. So, if your calculated rate was $300 a week, that means you'd need to earn less than $450 in a given week to get an unemployment payment.
The exact amount you'll get will depend on how much you earn versus your regular benefit amount. If you earn less than your stated benefit amount, the state will simply reduce that amount by 50 percent of your actual earnings for the week. On the other hand, if your wages for the week meet or exceed the regular benefit amount, the state subtracts your actual earnings from 1.5 times the regular benefit amount.
For example, if you had a weekly benefit of $300 and made $200 that week, you'd get $200 since the state would subtract half your earnings from the benefit amount. But if you made $400 that week, you'd receive just $50. But on top of that, you can get the $600 bonus from the Federal Pandemic Unemployment Compensation program as long as you get at least $1 in benefits that week.
Getting Unemployment in Michigan
Even if you feel unsure about whether you meet all these criteria, it's worth applying and hearing the state's decision.
First, gather information about your employers, work history and pay. You can then apply through the online system on Michigan's Department of Labor and Economic Opportunity website or dial 1-866-500-0017 to reach the call center. The department's website will let you know when you can apply since the claim system assigns a certain day based on the first letter of your last name, and the phone system has limited hours.
If approved, the state will give you your funds via direct deposit or a debit card. You'll call or go online every two weeks to certify your wages and continue receiving benefits. If Michigan says you don't meet the criteria, your benefits decision letter will provide details on filing an appeal, which you need to do within 30 days.