Even if you applied yourself diligently throughout your final year in grad school seeking a job to kick off your career in your chosen field, there's still no guarantee that you'll have an actual position lined up by the time you graduate. If you didn't spend a great deal of time looking for a job, or if you put your job search off until after graduation, the odds are good that it will be a few to several months before you land a position in your chosen field. During that time, it's possible for you to collect unemployment benefits from your state.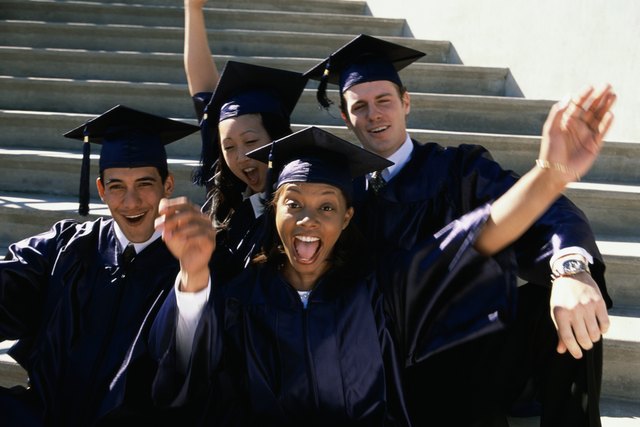 credit: Purestock/Purestock/Getty Images
Eligibility
To collect unemployment benefits, you must meet two criteria of eligibility: First, your unemployment must be due to circumstances beyond your control, such as a layoff due to reduction in force or loss of employment because the employer shut down. Second, you must meet standards for time worked and/or money earned during a set period of time before your application. These standards vary from state to state, but generally target a one-year period beginning 12 - 15 months before your application. You also must be willing to look for new full-time work, available to work and reasonably able to perform work. This means you must be willing to accept employment outside your field of expertise if you're capable of performing the duties.
Unemployment Educational Limitations
No unemployment educational limitations exist. It doesn't matter if you never finished high school or if you have a doctorate. Your state's labor office doesn't use these qualifications to determine unemployment eligibility or benefits. Instead, it has eligibility requirements determined based on your previous work experience as determined by law.
Reasons You Wouldn't Qualify
While graduating from graduate school doesn't necessarily prevent you from collecting unemployment benefits, some circumstance related to your education might. For example, if you didn't work while going to graduate school, you won't have the required previous earned wages. Also, most states don't count work completed for an educational institution while attending it as a student. So if you completed work study or just had a part-time job in the library, you may not meet the eligibility either.
How Much Can You Collect?
There are two calculations in your unemployment compensation: weekly benefit amount (WBA) and maximum benefit amount (MBA). The WBA determines how much you can collect for each week of unemployment and the MBA determines how much you can collect per benefit year. Both figures are based on your previous work experience. So even if you qualify for benefits, if you worked very little during your graduate studies, your unemployment benefits will likely be very small.