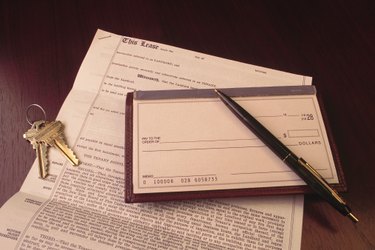 Many leases stipulate that you must give 30 days' notice to your landlord before you move out. Even if your lease does not require this, it is considerate to let your landlord know as soon as possible that you will be vacating. Leaving your landlord with a good impression of you could mean that you get more of your deposit back and get a good reference if any new landlords ask for one.
Business Letter Format
Although a signed, handwritten note is enough to give legal written notice, it is proper and professional to type out a business letter. This format begins with your name and address at the top, followed by the date and then your landlord's name and address. You can begin your letter with "To Landlord:" if you are not familiar with your landlord personally.
Give Notice and the Moving Date
Begin the body of your letter by stating that you are giving 30 days' notice, and then give the date that you will be moving out. This is probably the most important information that your landlord will need, and so should be discussed first. If you are not completely sure of the day you will be moving, give a general idea such as "the end of the month" and that you will get in touch later with the specific date. Don't put off giving notice just because your plans are not firm.
Inspection and Deposit
Your landlord will want to inspect the rental before he returns your deposit. If you would like to be there for the inspection to dispute any charges that your landlord wants to deduct, make that clear in your letter. Also remind your landlord of the amount of your deposit, and ask that it be returned when you move out.
New Address
If you know what your new address will be, give it to your landlord in your letter. For instance, if you accidentally leave something behind or important mail comes to the house, having the address will help the landlord to forward those items to you.
Contact Information
The landlord may want to contact you before you leave to ask if it is OK to show the rental to possible new tenants. Also, a landlord may offer to rent at a lower price if it means you will stay. Or she may want to reach you after you have moved because there is a problem. In all of these cases she will need to have a way to get in touch with you. If your landlord does not already have your email address or phone number, include it at the end of your letter.