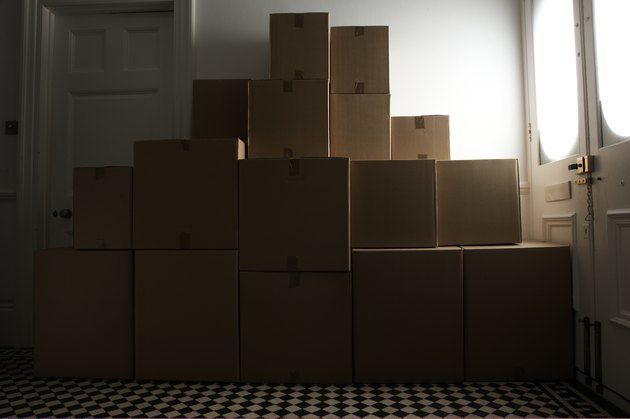 Landlords can avoid misunderstandings and legal headaches by sending tenants a notice when it's time for them to move out. A letter that tells a tenant to move out is known as a notice to vacate. You generally want to send the letter toward the end of a lease period -- or beforehand, if the tenant has violated lease terms. Even if your tenant intends to move out, a letter that specifies move-out terms allows you to begin advertising your rental. Have an attorney check your letter before sending it to your tenant, as letters to vacate aren't appropriate for all rentals.
Notice From Landlord Not Always the Norm
In some areas, it's customary for a landlord to write a letter to tenants when it's time for them to move out. A move-out motice doesn't necessarily mean the renter is being evicted or that he has violated any lease terms. You must ensure that the reasons in your letter don't misrepresent lease terms or violate tenant rights, as this can result in a lawsuit. For example, you may not have the right to send a letter to low-income Section 8 tenants or mobile home owners renting a lot that you own. Consult an attorney when writing a letter for reasons other than late rent, a rental agreement violation or the end of a lease contract.
Include Proper Time Frames and Guidelines
You may need an attorney to confirm the amount of notice you give a tenant. Move-out time frames vary by state landlord-tenant laws and the reasons for the notice. For example, tenants may have the right to correct a violation rather than move out. You may have to give them a certain amount of days to catch up with rent payments or to remove an unauthorized pet or person from the rental unit. Also, if your lease agreement provides your tenant longer than state-mandated time frames, you must honor the longer period. For example, if the law requires at least 30 days' notice on a month-to-month rental, but your contract stipulates 60, you must give the renter 60 days to move out.
Use Good Form When Drafting a Letter
Begin the letter with the date on which you mail or deliver the letter in person. Include your name, address and phone number, followed by the tenant's name and address. You can also insert a subject line that summarizes the reason for the letter to vacate.
Start with a salutation, followed by your tenant's name. Then, briefly explain that you are notifying the tenant that he must move out and include the subject rental's address. Next, describe the reason the tenant must move out. For instance, if you will not be renewing his lease, specify that you are ending his month-to-month, one-year or other lease term agreement and follow it up with the minimum number of days' notice the tenant is entitled to.
If your notice has to do with a lease violation, describe the provision that has been broken and the necessary steps required to fix the problem. Give a deadline for when these steps must be taken.
Tips and Warnings
In the body of the letter, remind the tenant that you are giving notice within the agreed-upon time frame in your lease. Also, state the exact date by which she must remove all personal property from the rental. Close the letter by providing basic information on final inspection procedures, the security-deposit refund and turning over of keys if your lease doesn't stipulate this protocol. Specify the condition in which you expect the rental to be left and the date of the move-out inspection, and request the tenant's forwarding address for the deposit refund. Sign and date the letter.