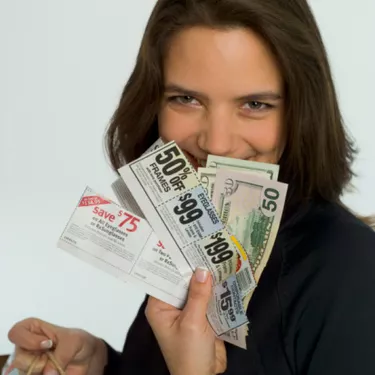 If you think of couponing as clipping out a few pieces of paper and saving a dollar or two at the grocery store, you're missing out on some big savings. Serious coupon users can save a large percentage of their grocery bill by using coupons and purchasing systems for their grocery buys. Don't just rely on your Sunday paper for coupons in the insert. Find coupons in bulk for items you use regularly to increase your grocery savings.
Step 1
Talk with everyone you know and ask them to save you their coupon inserts. Even if your friends are coupon clippers, they may have leftover coupons they don't use. Take all coupons, whether they are for items you use or not.
Step 2
Go to Starbucks, McDonalds, Denny's and other popular breakfast spots around noon on Sunday. Many people read the paper with their Sunday morning meal and leave the paper on the table. Pick up all the coupon inserts you find on the tables. Ask cashiers to save the coupon inserts for you each week.
Step 3
Trade coupons by giving away coupons for items you don't use and getting coupons you will use instead. Find coupon trading groups by posting on library or school bulletin boards, grocery store bulletin boards or online.
Step 4
Ask local librarians if they will save the inserts from the Sunday paper for you. You may be the first one to ask for them and might get lucky with a pile of coupons each week. Go to more than one library if they are close enough to your home.
Step 5
Print coupons online. Search for printable coupons to find dozens of sites that offer printable coupons for every grocery category. Check your local grocery stores before doing this, as some chains don't accept printable coupons.
Step 6
Buy coupons on eBay. Many people bundle envelopes full of similar coupons and sell them for a few dollars at auction. Keep the savings amount in line when you figure out how much you're willing to bid. Check the auctions weekly to find new coupon bargains.