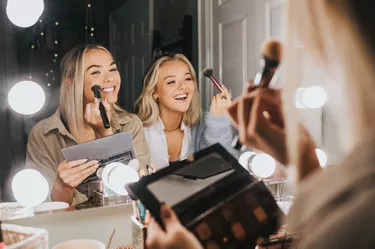 Everyone likes to get free things, and there's nothing better than a free beauty gift with purchase. You can almost always find some at department stores and retail beauty chains like Ulta. They almost always have something like this going on, and these deals are easy to snag. They're usually on the website and are also found in the stores and their emails and mailers.
Free Ulta Samples by Mail
There are countless different ways to get goodies from Ulta. To get free Ulta samples by mail, though, you will need to make a purchase first. Go to the website and look for the "sales and coupons" tab on the left side. Then, click on "Ulta gifts with purchase." Here's where you'll find the online deals; you can even get a free gift with purchases!
All of these free gifts are from the same brand from which you are purchasing the product. For example, if you spend ​$50​ on an Iconic London purchase, you'll get something like their free Dewy Glow Highlighter. Another good one was a free Deluxe Gloss Bomb Heat for spending ​$30​ on Fenty Beauty. The offers that are available change frequently, so if you see something you like, it's best to grab it. After all, many items that get good sales end up being out of stock when the deals are especially good.
Are There Other Ulta Deals?
At most times of the year, you can usually find a ​20 percent​ off one item coupon offered by the team on the Ulta website; they alternate this with 20 percent off a total purchase or a dollar amount off one item. Their buy more, save more deals are also worth checking out. You may be able to purchase one product and get the second at ​40 or 50 percent​ off. Other brands sell groups of smaller items together at one discounted price or offer reduced prices on additional items once you spend a minimum amount.
They also have a significant sale page with hundreds of discounted items. Browsing this page can be an excellent way to stock up when you see that your favorite items are on sale. On top of all this, they usually offer free shipping if you spend a minimum amount; this minimum amount is usually ​$35​, but it is subject to change from time to time. That's a small amount to pay for shipping compared to what other sites make you order.
Before the pandemic, it was pretty simple to get free perfume samples from Ulta and more kinds of free gifts: they would regularly include a choice of mini free gifts with purchases and trial size makeup samples, but you don't really see that anymore. It was also common for cashiers to give out free samples when people checked out, but like everywhere else, these things have changed. Check your mailers, though; these often have those free paper perfume samples.
If you're still craving some free Ulta treats, you might want to wait until Christmas or other special times of the year. During these seasons and events, frequent Ulta customers know that they offer fabulous deals like their Ulta Free Surprise Sample Pack 2021; it's also not unusual for them to have an Ulta free 10-piece gift.
When you're in their stores, snoop around for product displays that have offers and chat with their sales assistants for any tips. To stay on top of their latest offerings, get on their email list before it's too late. Many of these are so good that they get snapped up in record time!