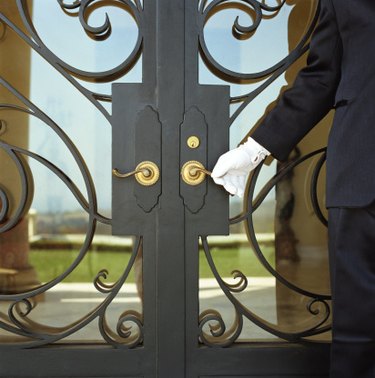 Concierges typically work in large upscale buildings with numerous residents, or hotel or resort guests, or in office buildings or medical centers with a large number of visiting professionals. The concierge provides various personal services, such as taking telephone messages, providing advice on transportation or area restaurants, passing along requests for housekeeping or repairs to staff members and distributing mail and packages. Salaries are generally low, although the concierge can expect tips for good service.
Salary Range
The average salary of a concierge as of March 2011 is $20,746 to $20,820 per year, according to CBSalary, a salary calculator provided by CareerBuilder.com. That equals about $10 per hour. The middle 50 percent of concierges on the earnings scale make $17,605 to $29,316 per year, or about $8.50 to $14 per hour.
Geography
Concierge salaries vary significantly with geography. Average wages for concierges are exceptionally low, for example, in states such as Tennessee at $15,574 per year, Rhode Island at $16,998 and Florida at $17,515. Concierges in Ohio have an average salary of $18,352 per year, in California $21,121, in Washington $21,221, in Illinois $22,065, in Colorado $22,168 and in Nevada $23,549. The average salary is significantly higher in New York state, at $29,286 per year. The top 10 percent of concierges in New York state earn at least $41,384 per year.
Job Openings
Jobs are available across the country for concierges in apartment communities, senior living centers, hotels, resorts, cruise lines and spas, as illustrated by job listings at Indeed.com in 2011. Posted pay rates range from $9 to $17 per hour, equaling $18,720 to $35,360 per year. Employers generally only require a high school diploma or equivalent.
Benefits
Although many concierges do not receive high salaries, the Indeed.com job listings show that full-time concierges receive numerous benefits. Examples of benefits provided by some employers of concierges include health, dental, vision, prescription and life insurance, along with a company-matched 401(k) savings plan, paid vacations and holidays, paid personal days, wellness programs, an employee assistance program, job training programs for advancement opportunities, tuition reimbursement and apartment rent discounts or hotel room discounts, depending on the organization.