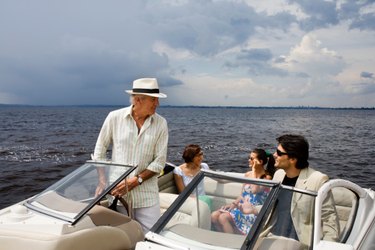 You can cruise into trouble in Florida without any insurance on your boat to cover property damage or injuries. Florida law doesn't make insurance mandatory for recreational boats as of 2011. Even so, that doesn't mean every boater has a choice about whether to buy a policy. If you took out a loan to buy the boat, the lender is likely to require insurance. A marina or boatyard where you keep the boat may require customers to carry insurance. For a boater who wants to protect his investment and passengers, insurance isn't optional and it doesn't matter if it's a law.
Legal Requirements
Florida requires boaters to register and title recreational boats. Exceptions include boats under 16 feet long that don't use a motor, such as a small sailboat or rowboat, along with canoes, kayaks and rowing shells of any length. The Department of Highway Safety and Motor Vehicles issues boat registrations through county tax collectors. Unlike a car registration, you don't need proof of insurance to register or title a boat.
Boating Accidents
Florida leads the nation in the number of registered recreational boats -- and the number of boating accidents involving at least $2,000 in damage. In 2009, collisions with fixed objects were the leading cause of 620 reportable accidents involving 822 boats and 26 swimmers, according to statistics compiled by the Florida Fish and Wildlife Conservation Commission. Collisions with another boat were the second leading primary cause of boating accidents. The state statistics show most boats involved in accidents were open powerboats, followed by personal watercraft and cabin cruisers. While the state doesn't require boat insurance, that doesn't limit a boat owner's liability for accidents.
Losses
Property damage from reportable Florida boating accidents in 2009 totaled $10.9 million, according to state statistics. A reportable accident involves at least $2,000 in damage or an injury or death. In Miami-Dade County, 62 accidents racked up nearly $6 million in property damages, in addition to four deaths and 32 injuries. The state calculated the boating accident rate at one for every 1,018 boats registered in the county. Monroe County's accident rate was highest, one for every 341 boats. It had three deaths, 52 injuries and $431,050 in property damage.
Types of Insurance
Boat insurance policies aren't uniform, and boaters shopping for a policy need to check the type of coverage and conditions the policy sets for coverage. Liability policies cover a boat owner for injuries and damages. Like car insurance, policies contain limits and you need to select limits that cover your circumstances. Since Florida law doesn't require insurance, you're free to tailor a boat policy to your specific needs. Some -- but not all -- policies cover damage and injuries caused by an uninsured boater. Policies vary as far as offering hull value, actual cash value or replacement costs. Some policies offer emergency services, such as tow service.