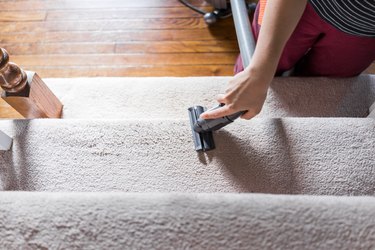 Since your carpet is being used all the time, it's going to get dirty over time. If you want to clean and deodorize it without spending a lot of money, you have a number of choices available. Making your own homemade carpet cleaner, shopping around for inexpensive cleaners and renting a carpet cleaning machine are all options when you want to keep costs down.
Homemade Carpet Cleaner and Sanitizer
You may already own your own carpet cleaning machine. If it's too expensive to buy carpet cleaning shampoo, consider making your own. You'll need a one-gallon size glass or plastic container with a lid and a funnel.
Mix the following ingredients:
1 cup hydrogen peroxide
1/2 cup fabric softener
1/8 cup dish detergent
1 tablespoon OxiClean
Add ingredients to the container using a funnel. Fill up the container with water and mix well. To use the homemade carpet cleaner in a carpet cleaning machine, fill the reservoir with water and add two ounces of cleaner.
This cleaner can act as a carpet sanitizer and is effective because hydrogen peroxide works as a natural carpet disinfectant. The dish detergent and OxiClean help to lift out dirt and stains. The fabric softener leaves the fibers soft to the touch as they are drying.
Shop Around for Affordable Cleaners
When you're looking for a cheap way to clean and disinfect your carpet, you also have the option of shopping around to find the best price on carpet cleaners. Before you make a decision about which cleaner to buy, shop around to get the lowest price on carpet cleaning shampoo. Check flyers and online ads for the best prices. Look for coupons that can help to bring the price down.
You can find carpet cleaning solutions at a variety of local stores, such as:
Building supply stores
Department stores
Grocery stores
Hardware stores
Office supply stores
You can also find carpet cleaning solutions online. Keep in mind that while the cost may be lower when buying products over the Internet, you may have to pay for delivery. This may make the overall cost more expensive than shopping at a local store, even if you can arrange for home delivery.
Rent a Carpet Cleaner
If you don't own your own carpet cleaning machine, you can rent one to clean and sanitize carpets yourself. This is a much less expensive option than hiring a company to clean your floors for you.
You only have to pay for the cost of renting the machine, plus the carpet cleaning shampoo. In many cases, the company will recommend a certain type of shampoo. If you want to use one you have on hand, ask before using it in the rented machine. These are heavy-duty units that will do a good job of cleaning your carpet.
To save on cleaning costs, ask whether there is a discount for renting a carpet cleaning machine on certain days of the week. There may be deals offered at the beginning of the week since this tends to be a slower time, for example. Also ask whether you can get a better price if you rent the carpet cleaning machine for two days to give you enough time to do a thorough cleaning job; this is the type of work that you don't want to rush through.
By thinking about your options, such as making your own carpet cleaner, shopping around for the best price on carpet shampoo and renting a carpet cleaning machine, you can find a cheap way to sanitize carpets in your home.