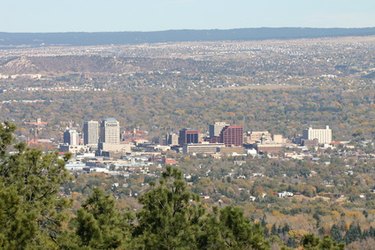 Temporary Assistance for Needy Families, the program some people refer to as "welfare," replaced Aid to Families With Dependent Children in 1997. With the new name came new rules, limits and responsibilities. TANF is funded by block grants given by the federal government, but administered by the states. States are also allowed to set some of their own rules for TANF, as long as they do not interfere with federal regulations. Colorado's TANF program is called Colorado Works, and is supervised by the Department of Human Services.
Basic Eligibility
Colorado Works helps provide cash benefits, job counseling and training to eligible families. Single people with no children do not qualify for Colorado Works, unless they are a close relative or caregiver responsible for minor children whose parents are not willing or fit to do so themselves. Pregnant women do qualify, however, even before giving birth. You must be a resident of Colorado and a citizen or legal immigrant of the United States as well. Part of the application process is providing valid Social Security numbers, legal residency status and identities for all members of your family.
Income Restrictions
TANF/Colorado Works has the resources to help low-income families. A family cannot exceed a certain monthly income level and still qualify for the program. The maximum monthly income level is based on the federal poverty guidelines and the size of your family. The state recommends that prospective applicants contact their local county human services office for more information regarding the Colorado Words income limits. Your family also cannot hold more than a certain amount in assets, such as real estate, stocks, vehicles, property, cash and money in the bank. In 2011, this amount cannot exceed $15,000 in total, according to the Boulder County Department of Human Services.
Documentation
Along with providing proof of your residency and citizenship, you will need to supply the Colorado Department of Human Services with other documentation. Receipts, pay stubs or employment letters detailing your income are needed, as well as paperwork showing any income you receive from child support or Social Security. You will also be asked to show proof of any assets you have in bank accounts, stocks, burial policies and life insurance. To prove your expenses, you will need receipts or canceled checks for day care, rent, mortgage, utilities, medical bills or child support payments. If you are pregnant, you will need documentation from a professional health care provider.
Work Requirements
The ultimate aim of Colorado Works is self-sufficiency. Once you are approved for the program, you must be engaged in work or a work activity such as job training, community service or an employment search. Teenage parents can fulfill their work requirements by attending school or a GED program, although they must live with their parents or another approved adult. The number of hours you are required to work depends on whether you have children under the age of six and if you are part of a one- or a two-parent household. Federal TANF regulations state that single parents with children over five years of age must work at least 30 hours per week, or 20 hours for those with children five or under. Two-parent households must work a minimum of 35 hours per week, or 55 if they receive child care assistance.