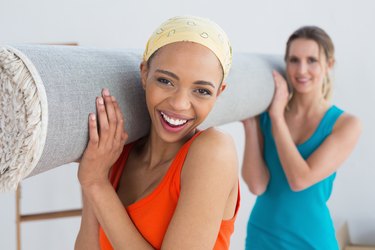 A professional home stager can transform a claustrophobic room into a light and airy space with just a few tricks. Regardless of market conditions, a listed home competes with every other nearby home with similar features. Home staging dresses a home for selling, making the most of its features and showing it off in the best possible light. Homeowners should weigh the costs of staging against the benefits, just as buyers measure the appeal of one home against a similar home down the street.
What is Home Staging?
A home stager assesses a home's appeal through the eye of a buyer. Typically, staging involves removing items from the home to open the space, or rearranging furnishings to highlight the home's best features. The stager turns a home into the model home you see in magazines, enticing buyers to picture themselves living in the home. Staging entails decluttering and depersonalizing a home, toning down bright colors and adding finishing touches to broaden the home's market appeal to a wide range of potential buyers.
Benefits of Home Staging
USA Today reported a study in 2004 that indicated staged homes sold in half the time compared to unstaged homes and for about 6.3 percent over asking price. Home staging could make even more sense in a depressed market. Real estate brokers have also reported that staged homes attract more potential buyers. When weighing the cost to stage a home, sellers need to consider the cost of lost time and low offers against a shorter marketing time frame and higher offers.
Types of Staging Services
Staging costs depend on the type of services you want or need. The cost for a home staging analysis and report can range from $100 to $400, depending on location. Stage to Sell prices the staging of a vacant home between $3,500 and $10,000, depending on the size of the home and the length of contract. To determine a cost to stage your own home for sale, contact a home stager for an estimate.
Do it Yourself Staging
When staging your home clean it from top to bottom and start by washing and polishing everything. Make sure your windows sparkle to let in light and box up books, magazines and photos. Hide laundry baskets, kitchen appliances and trash. Remove excess furniture and choose a focal point in each room. Adhere to the "less-is-more" concept in every room. Consider using a stager for one or two key rooms. Stagers can point you in the right direction if you are willing to pay a basic consultation fee.