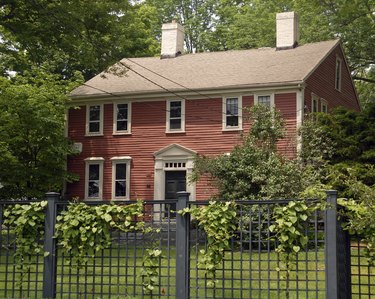 Old homes can be remodeled to look modern and new homes can be built to look classic and exude character. It can be difficult to determine a home's age just by looking at it. Real estate agents and long-time residents of the neighborhood can give basic information such as the year a home was built, however, it's safer to rely on official property records to determine a home's actual age. In the rare case that a home has no public record or a sketchy past and an erroneous record, you may have to enlist the help of history buffs, architects or engineers to determine a home's real age.
Searching Public Records
A land record's office, sometimes referred to as the county recorder's office, and the tax assessor's office keep records of building permits within their jurisdiction. Their records trace back a home's history through building permits recorded for construction and improvement purposes as well as sales or deed transfers. These local government offices are a reliable and relatively accessible source for finding a home's age. A title company, real estate broker and attorney can research the public records to pinpoint the year a home was originally constructed, plus the dates of any major remodeling or room additions that also required permits.
Looking for Age Online
Public records for most municipalities are usually just several clicks away and you may not need to enlist the help of a third-party to find a home's age. In addition to year built, you can view basic property characteristics and tax-roll details on a county assessor's website. You usually need either an address, a parcel, tract, lot or property-tax identification number, or the current homeowner's name. As an alternative to a government website, you can use real estate websites that offer property-record details for listed homes, recently sold homes, and houses that are not for sale. Realtor.com, for example, provides free access to basic property information. Although these websites display less data than government sites, they show a home's year built.
Estimating a Home's Age
You can use methods employed by historical and architectural experts to decipher how old a home is. This is best when an approximate age will suffice and the home's public records are confusing or possibly inaccurate. A home's definitive characteristics, such as building and room shape, materials, decorative design, craftsmanship, and site design can help you come up with an age or era for the home's construction. Compare these elements with research you obtain on local architecture, and from design and construction experts. For example, the federal government provides basic guidance for the preservation of historical homes that may help in "Preservation Brief 17: Architectural Character."
Reasons for Figuring Out House Age
House age is a basis for comparison when shopping for a house to live or invest in. You must consider a home's year built and its relative condition when deciding whether to purchase and the appropriate price. Homes of varying age can share the same square footage, number of bedrooms, lot size and features, however, count on a vintage home built before 1949, a mid-century house built in the 1950s to 1960s, and newer constructions built within the past two decades to differ greatly in layout, materials, location and efficiency. All of these factors affect a home's price and the cost to improve it.