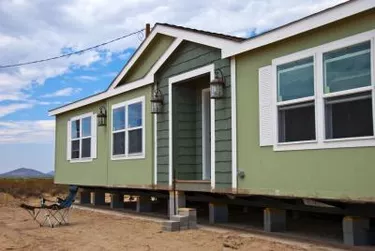 Tracking the history of a manufactured home can be confusing because of their dual nature as a mobile structure and a piece of real estate. To acquire a reliable history of a manufactured home, you will need to conduct a mobile home make and model search through a Housing and Urban Development (HUD) certification number or a serial number along with additional information from a data plate. Securing a complete history of this type of dwelling can involve multiple state and local government agencies.
Starting a Mobile Home Make and Model Search
Each manufactured home unit's certification number records historical sales, registration, utility, insurance, appraisal, zoning, and licensing data. Sometimes referred to as manufactured home vin number number, this unique 6-digit identifier is on a HUD tag on the side of the home. HUD tags are 2" x 4" metal plates attached with screws or rivets. The label number contains a three-letter designation designating the primary inspection agency. It also has a six-digit number that its supplier furnishes and its numbers are sequential."
If a home consists of multiple sections, there will be a separate HUD tag on each section of the home. Entities conducting a mobile home make and model search can include:
Local building regulators

Zoning officials

Tax agencies

Realtors

Appraisers

FHA and Lending institutions

Utilities

Insurance companies

Manufactured home communities

Locating Serial Number and Data Plate Information
If the HUD tags are not available, readable, or are damaged, a mobile home serial number lookup is possible when locating the data plate. The plate is on or near the main electrical panel, inside a kitchen cabinet or the master bedroom closet. The data plate also contains the make and model facts, along with useful information about which wind, roof, and thermal zones the home was built for and when.
If the date plate is missing, a new one can be obtained through the manufacturer and In-Plant Primary Inspection Agency (IPIA). This third party inspection agency works with HUD to inspect the homes as they are being manufactured to ensure that they are built according to Federal Manufactured Home Construction and Safety Standards.
Letter of Label Verification
HUD will not reissue missing labels for a manufactured home. If the HUD tags are missing, many states will require a Letter of Label Verification to perform a sale. To get one, you must have the HUD certification label number or the age and manufacturer of the home along with the full serial number from the data plate.
Searching Through the DMV or County Assessor
Prior to being attached to a property as a real estate asset, a manufactured home is registered with a state's Department of Motor Vehicles (DMV). If you can give them the address, they can see if there are liens on the property. If the home has not been classified as a real estate asset, they can also see if additional owners are listed on the title.
If the home is now classified as real estate, contact the county assessor's office to determine if it has outstanding property taxes or assessments.