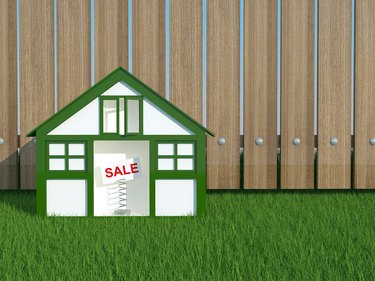 Whether you're planning to sell your home or buy a place, you can benefit from information about recent home sales in an area. Sellers use recent home-sale data to price homes competitively and buyers can use recent sale prices as a basis for writing offers. Real estate professionals are generally the best source for obtaining recent home-sale information because they have access to the most accurate sales activity through their local multiple listing service, or MLS. However, you can personally find the sale details for a specific property, through various websites.
Ask a Real Estate Agent
A comparative market analysis compiled by a real estate broker provides a list of recent home sales in your area and how the properties compare to your own. Real estate agents typically offer CMAs to prospective clients free of charge in anticipation of acquiring future business. The report compares your home to others of similar size and with similar amenities that have recently sold. The report reflects an estimated value for your home based on current MLS data.
You need not own a home to request a CMA from an agent. As a homebuyer, you benefit from a CMA because it provides a value estimate that helps you offer the appropriate amount for a particular house. A buyer's agent can provide a CMA to help you write a strong offer.
Hire An Appraiser
A home appraiser is a state-certified or licensed real estate professional who provides an opinion of home values. Appraisers look up recent home sales, compare property amenities and arrive at an estimated fair market value using one of several appraisal methods. A traditional report typically costs between $300 and $400, depending on your location, home size and the appraisal type. You can order the following types of appraisal reports, which all include recent home sales:
Traditional interior and exterior home appraisal, which is the most thorough and expensive

Broker price opinion, or BPO, conducted by an appraiser or licensed real estate agent

Automated valuation model, also known as an AVM or desktop appraisal, which doesn't require a visit to the property

BPOs and AVMs are generally cheaper and quicker and may be less accurate than a traditional home appraisal. They may or may not involve a drive-by inspection in which the appraiser observes the home's exterior but not the inside.
Get a CMA on Your Own
You don't have to contact a real estate professional to obtain a CMA. You can order an automated CMA online for a fee or for free, depending on the real estate website you choose. For example, US Home Value offers an "appraisal emulation report" for a fee and Redfin offers a similar service for free through its "home value tool." The website may allow you to set certain parameters to customize the report, such as the date range for comparable home sales you want included in the report.
Typically, the best date range to use for recent sales is within three months or 90 days. However, you may have to search for sales over a longer period, such as six months, if there are few home sales in the area. According to appraiser John Messner, in an article for Philadelphia-based TREND MLS, comparable sales dated longer than 12 months are too old for most appraisal purposes.
Review the MLS via Real Estate Websites
A survey conducted by eBiz at the time of publication named the top five real estate websites. You can find a property listing and sale data, including selling date and sale price, on these websites for free. The sites obtain data from multiple listing services nationwide. However, these websites may not reflect very recent home sales, or as much sale information as your area's official MLS. For example, a property that just sold in the past few days may not show up as such on these websites.
Tip
To find out how much a home recently sold for, you can also call the listing agent that represented the seller in the transaction. You might know that a home has sold because you see the new residents moving in or the home has a "SOLD" sign, but you may not yet find it on a free real estate website. Because the listing agent is responsible for updating the local MLS with the sale details, this person can provide you the most accurate and up-to-date information. In some locations, you can also search government websites for information about specific home sales.