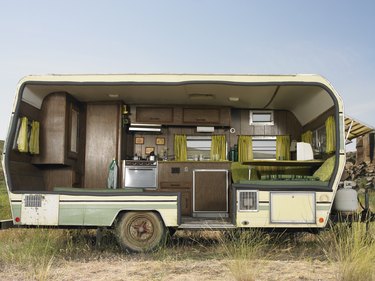 If you're looking to resell or buy a used mobile, or manufactured, home you need to know its value. Many people look for the Kelley Blue Book (Blue Book) or NADA value, but to get a good value on all the specifics of your home, you may have to purchase a book for just one time that you'll never use again. There are other -- sometimes more accurate -- ways to determine the value of your mobile home without having to purchase anything.
Step 1
Call your local bank to get a free mobile home value quote. Banks generally have the NADA manufactured housing appraisal guide for use in determining loan to value ratio when considering a loan. A local bank you've done business with in the past is one easy way to get a free mobile home value.
Step 2
Talk to a local real estate agent to get a free mobile home value quote. This is really one of the very best options, because different manufactured homes will be worth different amounts in certain areas. The end result is a much more accurate idea of the actual worth of your manufactured house than you would get from the Blue Book or NADA, which can only provide value based on standard information. An added benefit, if you are thinking of selling, is that the agent can see any and all improvements you've made to the house that may improve the value or anything that might cause buyers to offer less.
Step 3
Do your own research and find out what manufactured homes similar to yours have sold for recently in your area. This will probably be more accurate than even the Blue Book value because it will take location and other factors, like trends, into account.