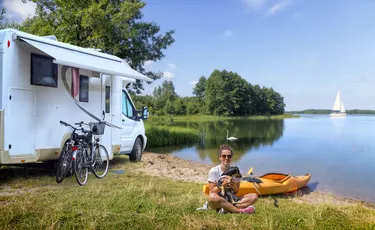 When looking to sell a mobile home or in the market to purchase one, knowing the blue book value of the mobile home will help prepare you for negotiations. While Kelley Blue Book doesn't cover mobile homes, the National Automobile Dealers Association (NADA) manufactured housing appraisal guide and other mobile home analysis services fill the mobile home blue book space.
NADA Manufactured Housing Appraisal Guide
The mobile home's equivalent of the Kelley Blue Book is the NADA manufactured housing appraisal guide. It's created by the National Appraisal Guide, Inc., a subsidiary of J.D. Power and compiles its information from the wealth of research done by the National Automobile Dealers Association (NADA).
With guides for cars and classic cars, motorcycles, RVs, boats and mobile homes, the NADA guide is often used in mobile home value assessments. There are three types of NADA guide mobile home value reports at various price points, each developed for different types of consumers. For the everyday consumer looking to buy or sell a mobile home, a basic report is available for ​$30​, in which consumers can select from a limited set of home features to gauge their home value.
A more comprehensive list of features to choose from is available in the professional report. There is also a report for new manufactured homes to add peace of mind and transparency to sales.
Free Valuation of Mobile Homes
While the NADA mobile home value report is industry-standard and may provide the most accurate information available, you might wish to obtain free valuations. One resource you should pursue first is your lender. Some mortgage lenders may offer the NADA guide for free to their borrowers.
For instance, Chattel Mortgage and JCF Lending Group offers the NADA guide for free to an existing mortgage customer. Local banks may also have access to this information, so if you are a customer of any kind, even if you don't have a mortgage, they may be willing to help you.
A real estate agent or Realtor may also be able to provide you an estimate as to a mobile home's value. As is the case with any home, however, this information is not going to be exact, but instead just an estimate.
Assessing Mobile Home Value
While an online report can supply you with a mobile home value, the best it can do is offer an estimate. Mobile home values are based on many factors that an online assessment wouldn't be able to consider.
Value is influenced by not only the mobile home and its condition, but also the lot it sits on, the park and community, original manufacturing standards, the mobile home category, whether or not furniture is included and improvements made to the mobile home.
Many other factors influence the value of a mobile home. One major factor is age. Mobile homes lose value over time as newer models are released, trends change and the wear and tear of time reaches the home. Older homes are more difficult to finance and typically sell for much less than newer homes. The time of year and demand will also heavily influence the value.
A "blue book" is a type of pricing guide. While it's most commonly used in reference to valuing cars, thanks to Kelley Blue Book fame, blue books aren't exclusive to cars. A blue book can focus on any type of item, containing pricing information on every, or almost every, item model.
Blue books are used to determine a quote for an item based on the make, model, year, condition and other possible variables. This quote is then typically used as the basis in negotiations. Other factors such as the market, the dealer's and seller's needs, modifications, unique characteristics and the home's current condition factor into the price after the blue book assessment.
The blue book's biggest limitation in assessing the value of a mobile home is that it does not consider the value of the land if connected to the mobile home sale. In most cases, the land will be worth more than the mobile home.