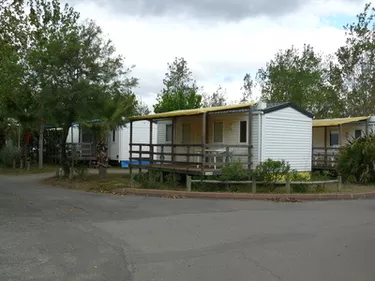 Mobile homes, also known as manufactured homes, are a popular housing option in the United States. They are more common in rural areas where people have plenty of places to set up their homes without paying lot rents. They can also be found in cities where lot rents are more affordable. Mobile homes are priced relatively cheaper than regular homes.They are also less expensive to maintain, making the overall cost of living in a mobile home more feasible than in a traditionally contractor-built home. The price of a mobile home is determined by its NADA Appraisal Guide value. The NADA Appraisal Guide value is actually suggested retail and wholesale values and pricing provided by NADA (the National Automotive Dealers Association), which also prices cars, bikes, motorcycles and boats.
Step 1
Obtain a NADA manufactured housing price guide from NADA's website (http://www.nadaappraisalguides.com/). You can purchase it as a CD-ROM or order a hard-copy (pocket catalog) version. NADA has an option for either a monthly subscription or a single issue. The NADA manufactured home appraisal guide is the sole book that provides pricing for manufactured homes, whereas in the past there were several other books. This guide is the best option for accurately pricing a mobile home, as there are many different factors involved in pricing, such as date of manufacture, house condition and any upgrades.
Step 2
Get a manufactured housing value report. This is also obtained from NADA's website. You will have to complete an online request form. After it is processed, NADA will provide you with an in-depth retail value report. NADA will not provide the report over the phone.
Step 3
Try to get a NADA Guide, or at least its information, for free from your local bank. Most banks have the current NADA guides since they offer loans for manufactured homes and need to remain up-to-date on the current prices to evaluate the true value of these homes. You can ask a bank that you frequent often for the blue book or guide to find out the value of a mobile home.
Step 4
Ask a real estate agent about the current prices of manufactured homes. The real estate agent should be able to price your home according to the current market prices. Tell the agent about the specifics of the mobile home such as its location, size, condition and upgrades. The agent may compare your mobile home to other mobile home listings to determine what is unique about your home that could increase its value.
Step 5
Search the Internet for mobile homes that are on sale and analyze their prices. You will get a better estimate on how to price your mobile home if you compare it to other homes on the market--or better, to mobile homes that have recently sold. Check to see specifications about these homes, such as their location, appliance upgrades and other items.
Step 6
Survey mobile homes in your area and speak to owners who have recently sold mobile homes or are looking to sell. Find their opinions on prices in the area. Ask them if they have done any upgrades to their homes, such as adding a deck, to increase the value of the mobile home. Once you have talked to mobile home owners, you will be more confident in pricing your own mobile home.
Step 7
Keep the price reasonable. Unless your mobile home is situated in an area that has high value, most prospective buyers will be more likely to respond to a reasonable price. You may also make a deal to close the sale, such as adding new carpeting, painting the walls, fixing the ceiling or some other compromisable adjustment. Also consider offering a reduction on the price and letting the buyer do any necessary repairs or upgrades on her own if you need to save time.
Tip
Keep the home clean and well-kept when you are expecting potential buyers to visit. This will help add to the perceived value of your home.
Things You'll Need
NADA guides

Real estate agent

Other mobile home prices for comparison