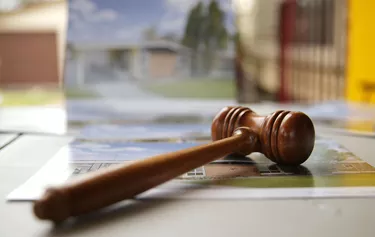 When a home goes through foreclosure, part of the process is selling it at a public auction. These properties are sold to the highest bidder, which in many cases is the bank that originated the loan. After a home is sold at an auction, it is easy to find out when it was sold and to whom.
Step 1
Do an Internet search to find the county clerk's website for your area. Most appraisal districts have websites and property information available to the public, since real estate matters are a public record. If the county clerk in the area where the property was located does not have a website, call the clerk's office to get the information you'll need.
Step 2
Register on the website to search for public information about real estate. Most foreclosure sales occur on the first Tuesday of every month, and new data are posted the following week.
Step 3
Perform a deed search using the property address as the search parameter. This will provide a listing of all the previous and most current deed records for the property, which includes foreclosure and sale information. When reviewing this list, select the record with the most current date.
Step 4
Review the deed record for information about the auction sale. If the property was not sold to an individual or investor, the bank in possession of the house will be listed, as well as the bank-appointed trustee, who will assign the property to an asset manager for resale in the local market.
Step 5
Call the county clerk's office to validate the data found online or to request the information if the office lacks a website where data can be found. If you ask for auction-sale information to be mailed to you, the clerk's office may charge a fee.