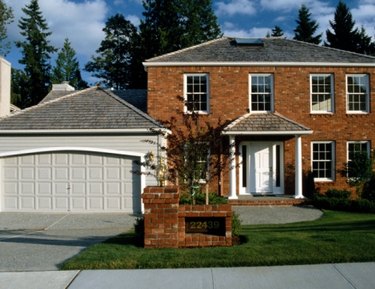 Rumors of mysterious hauntings or just an innocent curiosity may spark a thorough investigation of your home. You can learn the names of previous owners, improvements made on the house and the value of your home when it was built. For an older home, researching the backgrounds of the previous owners can also produce interesting results. Free online and local resources can enrich your history of where you live.
Step 1
Visit the county clerk's office to obtain records and other documents related to real estate and personal property transactions in your county. If a previous homeowner had a lien or judgment on the property, you can find that information with the county clerk. Review property tax assessments for names of previous owners and to find the sales price fluctuations of your home over the years. The property tax assessment will also give you a parcel ID or property identification number.
Step 2
Visit the county courthouse to find copies of old property deeds. You will need the owner's name, your home address and a property identification number. Certified copies of property deeds are usually subject to a small fee. Examine the type of deed available. According to the Board for Certification of Genealogists, a sheriff's deed indicates that your home was previously seized to satisfy a judgment. With a deed of trust, another individual may be listed as loan guarantor, which implies a close relationship or kinship.
Step 3
Take notes in a spiralbound notebook on owner, next of kin and home builder names included in the property records, transaction amounts and dates. Use each piece of information to create a new search until you are satisfied with the historical information you gather. For example, a background check or genealogy report on a previous homeowner can yield the family's origin. Or, you may learn the architectural style the home builder was known for and how your home measures up to the standard. A notebook helps you remain organized, as information can begin to mount quickly as you navigate facts of interest to you.
Step 4
Visit the local library to read microfilms associated with your home address. Many city libraries have thousands of feet of newspaper microfilm available spanning decades of history. If your home was previously associated with local news, it will appear in the newspaper microfilm database. This is a good solution, especially for homes more than 50 years old, as information on the home builder and original purchase price may not be available at the county clerk's office. Search surrounding addresses for information, if your address does not show up in the search.
Step 5
Talk to neighbors, who may have additional information not available elsewhere. If they knew the previous family or watched your home being built, they can provide quick facts from memory. Ask for further leads if the neighbors also performed searches on their homes.