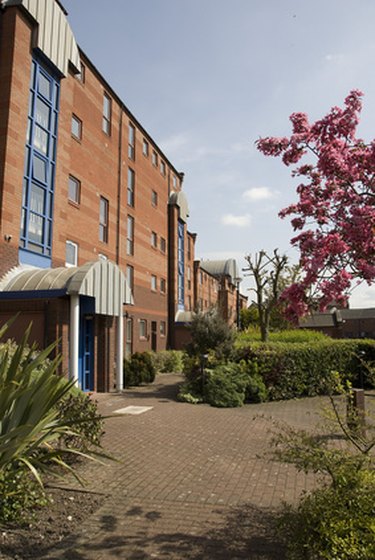 The U.S. Department of Housing and Urban Development (HUD) provides several affordable housing options for low-income seniors. These programs are administered through local housing authorities. To live in a senior community, the head of household must meet age limit requirements; however, other household members do not have to be of a certain age. The total household income is used to determine the senior's eligibility to receive help with rental payments.
Public Housing
Public housing allows eligible applicants to live in rental housing restricted to those who are 62 years of age or older. The applicant must meet low-income limit requirements to get help with rental payments. HUD subsidizes the unit's rental rate. The tenant is required to pay 30 percent of his income toward rent. Once the tenant moves out of the public housing facility, he will no longer be able to have his rent subsidized unless he moves into another public housing unit or he obtains a Section 8 Housing Choice Voucher.
Section 8 Housing Choice Voucher Program
The Section 8 Housing Choice Voucher Program also subsidizes a low-income senior's rent; however, the rental subsidy is not tied to a specific rental unit. The senior is allowed to take her rental subsidy to any rental housing that will accept a Section 8 voucher as a form of payment. The senior must still meet age and income requirements to obtain a Section 8 voucher. The housing authority is responsible for determining the tenant's monthly rent and paying the owner for HUD's portion of the rent.
Eligibility
In addition to meeting age and income requirements, the senior must be screened for a criminal history. HUD prohibits the admission of applicants that have drug-related criminal activity or a lifetime sex offender status on their record. Applicants that have been evicted from federal housing for drug-related activity within the last three years of submitting an application will also be denied. Applicants must be U.S. citizens or eligible non-citizens to qualify.
Other Services
Senior housing also offers certain supportive services to its residents. Some senior communities have a resident services coordinator that schedules daily activities for the residents to participate in. Morning exercise classes or holiday parties are a few of the activities a resident coordinator may organize for tenants. Also, the senior community may participate in a meals program or offer transportation services to tenants. These services are usually provided at no additional cost to the residents.