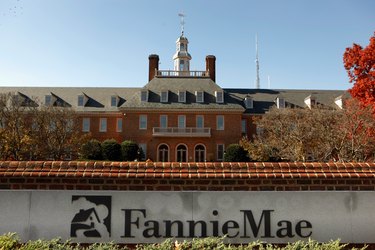 Started by the federal government in the 1930s, Fannie Mae is now a privately-held mortgage lending company. It does not lend directly to home buyers, but it does provide funds to third-party lenders to loan to borrowers who want to buy a home. The company also buys mortgages from lenders, bundles them with other mortgages, and then sells to investors who make money off the interest.
Fannie Mae Lenders
Fannie Mae lenders are third-party mortgage brokers and mortgage companies who must go through an application process. The first part is a self-assessment tutorial, where the lender can determine if it meets the requirements. As of 2014, the requirements include being in business for at least 24 months and having a net worth of at least $2.5 million. The applicant ultimately must work with a Fannie Mae sponsor to turn in any other necessary documentation.
Fannie Mae Programs
Fannie Mae sponsors an entire website, KnowYourOptions.com, which provides information on what to do if you have trouble paying your mortgage. Use the loan search feature on the Know Your Options website to see if Fannie Mae currently owns your loan. If it does, you qualify for mortgage hardship assistance, such as the Home Affordable Refinance Program. Fannie Mae can help you apply for the program, which receives federal funding. It modifies your loan so you can better afford the monthly payments.