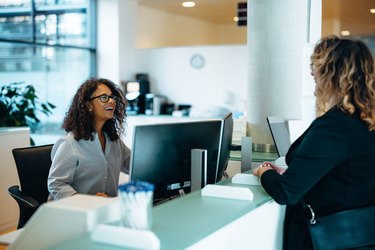 The GS, or General Schedule, is a payscale system used by the federal government for its civilian, white-collar employees. There are specific GS-13 education requirements, work experience requirements and other GS-13 qualifications, but the pay is relatively generous once staff people meet those requirements. That being said, the GS-13 pay scale has other factors that play into a GS-13 pay calculator, including location.
Salary Range of a GS-13 Federal Employee
GS-13 federal employees earn between ​$79,468​ and ​$103,309​ annually. That translates to a monthly pay of between ​$6,622.33​ and ​$8,609.08​ or an hourly wage of ​$38.08​ to ​$49.50​. Within each level of the General Schedule, there are various steps that increase wages, but the total increase is consistent regardless of the step. A GS-13 level employee's salary increases by ​$2,649​ per year with each step increase. When federal employees are stepped up in terms of pay, they remain in the same job role and may take on a few additional responsibilities.
The General Schedule system dictates minimum and maximum pay for federal employees. However, the federal government makes locality adjustments in varying percentages. One factor contributing to how much a civilian federal employee earns is where they work because the cost of living can vary significantly in different parts of the country.
For example, the GS-13 pay scale for 2022 in D.C. and surrounding areas is between ​$106,823​ and ​$138,868​ annually. GS-13 Los Angeles-area pay is between ​$108,513​ and ​$141,064​. The GS-13 payscale for 2021 in Philadelphia is ​$100,161​ and ​$130,211​. The regulators at the United States Office of Personnel Management set these scales. The GS-13 military equivalent is usually that of a Major in the Army, a Commander in the Navy or Coast Guard, or a Lieutenant Colonel in the Air Force or Marines.
GS-13 Education Requirements
General Schedule levels tend to have specific and strict minimum qualifications to ensure that they hire the most qualified individuals and are fair to all applicants. In terms of GS-13 education requirements, anyone who seeks to obtain one of these positions must have either a master's degree or Ph.D. In most cases, those who do not have that degree will not be able to get a GS-13 level position.
For most GS-13 job openings, there are more specific requirements regarding education, especially about what field an applicant studied. For example, someone applying for an IT position will need an advanced degree in computer science, regardless of which branch of the government they're applying to.
Sometimes, years of service may be considered an acceptable substitute for some qualifications. Some departments or roles will make an exception in these long-term tenure situations, especially for current federal employees seeking a promotion within their department.
Other GS-13 Qualifications
In addition to meeting the education requirements, there are other minimum qualifications for a position at the GS-13 level. You need to have at least four years of work experience, with at least one of those years at the GS-12 level or an equivalent in the private sector, military or other areas. GS-13 is a high rank, as the GS scale goes to 15. That means that many positions will require that applicants be U.S. citizens, have the ability to obtain security clearances, be willing to travel and more.
You should keep in mind that every position will have other specific qualifications that relate directly to the duties of the job that the applicant will be performing. While it can be challenging to meet all of the qualifications for working for the federal government, it is well worth it. Federal employees enjoy fair pay, good benefits packages and stable job security.