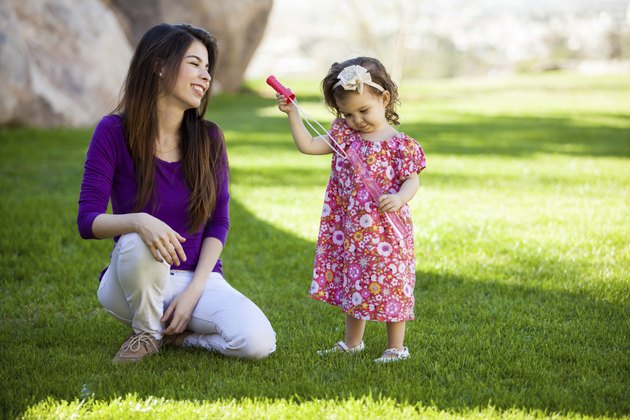 Babysitters can be a lifesaver for parents struggling to balance childcare responsibilities with jobs, household tasks and busy social calendars. Babysitters can tend infants, entertain youngsters with visits to the library or neighborhood park, or help older kids with homework. Some babysitters also help out with light housecleaning, such as washing dishes or folding laundry. Parents wondering about average babysitting hourly rates will want to take a number of factors into consideration when developing a pay scale for their sitters.
Average Rates
Average babysitting wages ranged from $8 to $12 per hour in 2014, according to BabysittingRates.com. Some families may pay as little as $4 per hour, while some families may pay $18 or more per hour, depending on their specific situation.
Experience Pays
Rates also depend on the babysitter's experience level. Teens just entering the job market may be thrilled to earn $5 an hour; experienced sitters, babysitters with college degrees related to child development, or babysitters holding first-aid and CPR licenses may expect a minimum of $10 per hour.
Age, Number, Type and Special Needs
Parents pay more, of course, when sitters look after additional children. Some families pay an additional $1 per child/per hour. Kids' ages are also a factor; infants requiring constant care, including feedings and diaper changes, require higher rates. Older kids, on the other hand, may essentially look after themselves but require a babysitter in case of emergency. Children with special needs, including kids in bed with the flu, independent-minded youngsters requiring extra babysitter energy to direct good behavior, or children with significant physical, mental or emotional challenges, may also require higher rates.
Special Times
Expect to pay $2 or more extra per hour on holidays, weekend nights or for unusual time slots. If you've hired a babysitter for early morning child care to serve breakfast, dress the kids, and get them off to school, this may result in higher rates. Babysitters working late night or overnight shifts may also require a higher hourly rate.
Complications Cost
Average hourly rates for babysitters helping with additional responsibilities, including housework, running errands or tutoring, may increase by $2 per hour although some families may choose to pay more for complicated babysitting requirements involving a combination of these tasks. You may also pay additional fees if you'd like babysitters to help care for pets.
Urban vs. Small Town
Families living in large cities or urban neighborhoods can expect to pay more in average babysitting hourly rates while small-town families will pay slightly less. Urban families tend to pay about $3 more per hour.
Flat Fees or Monthly Rates
Depending on your family's particular situation, you may decide to set weekly or monthly rates for babysitters heavily involved in your kids' child care. Establishing regular babysitting routines for children sometimes helps build consistency, rapport and trust between sitters, kids and parents. You may also opt to settle for a flat fee for special circumstances, such as an overnight stay when babysitters will spend some of their time sleeping.