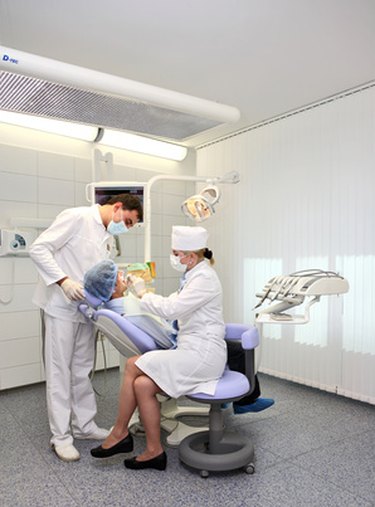 Trained to care not just for their charges' teeth but also gums, mouths, necks and heads, dental hygienists spend the most time with patients out of the entire staff of dental professionals. Dental hygienists perform routine cleanings, discuss problems or follow-ups, test for cavities and prepare the patient for the dentist's examination. Some hygienists are also involved with procedures such as X-rays, molds and extractions.
Facts
In its 2009 survey on wages, the U.S. Department of Labor Bureau of Labor Statistics found the average dental hygienist hourly rate across the country to be $32.63. This rate was across the board for most industries polled by the BLS, with a few industries paying slightly higher, such as temporary employment services at $32.77 an hour and outpatient care centers at $32.74 an hour.
Location
West Coast dental hygienists earned the highest per-hour salaries in the country in 2009. The highest-paying state for the profession was Alaska, with an hourly mean wage of $46.29. Washington state placed second with a rate of $43.34. In third place was California, paying $42.09, followed by Nevada at $38.99 an hour.
Considerations
Dental hygienists train for their salaries by enrolling in one of the hundreds of dental hygiene associate or bachelor's degree programs accredited by the American Dental Association Commission on Dental Accreditation. Hygienists must pass the American Dental Association Commission on National Dental Examination test. Licensing is not reciprocal; hygienists who transfer states must take that state's exam.
Outlook
The U.S. Department of Labor Bureau of Labor Statistics reports the field of dental hygiene to be one of its fastest-growing professions, adding 62,900 jobs and expanding 36 percent through 2018. An aging population and overall greater access to dental health care contributes to the projected demand for dental hygienists.