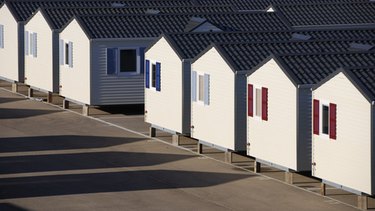 "Manufactured housing" is a term for mobile, or trailer, homes. Along with the new name, manufactured homes have also raised their construction standards. Since 1976, when the U.S. Department of Housing and Urban Development set construction and safety standards for these types of homes, most are built better and hold their value longer, according to the Tennessee Manufactured Housing Association.
Available Options
Manufactured homes are available in single, double and triple wide varieties. Buying the best you can afford and maintaining it according to industry standards will help your manufactured home hold its value. Building a permanent foundation for the home will also increase its resale value.
Determiners of Value
Just like "stick-built" homes, the value of manufactured homes is mostly determined by location. The community in which it is located has a huge impact on the future value. The condition of the home at time of resale is also a big factor in held value.
Forecast
Manufactured housing can appreciate or depreciate just like any other home. They aren't any more prone to depreciating than a stick-built home, according to the Tennessee Manufactured Housing Association. It all boils down to the initial price paid, location and inflation rate. When sited and maintained properly, these homes can appreciate the same as stick-built homes in surrounding neighborhoods, the association notes.