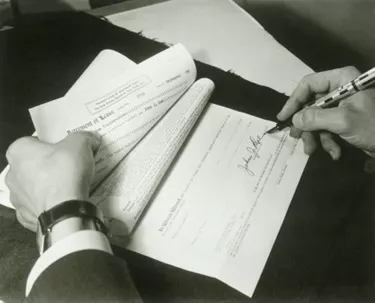 A lease proposal is an application that outlines the proposed terms and conditions for leasing the property in question. The proposal will include details about the space being rented out and outline the basic leasing terms that the tenant and landlord will have to follow. The document is written by the landlord or the building owner as a temporary lease document. If you are writing a lease proposal, you'll need to cover all of the legal aspects of a property rental lease.
Step 1
Give the document the title "Lease Proposal" and specify the property number or solicitation number given on the property listing. Include a date so the landlord knows what listing you are inquiring about.
Step 2
Describe the premises you are writing the lease proposal for, including the building's name, physical address, city, state and ZIP code. Also provide a description of the number of floors in the building, the general purpose of the rental space and the building's age.
Step 3
Provide details regarding the type of space that is being rented. This can include a description of the floor plan, the total square feet of rented space and the rental rate per square foot. This section will show how the rent is broken down in terms of square-foot fees. Include any storage space or garage, but offer it in a separate section so people without a car can choose to rent without paying parking space charges.
Step 4
Calculate the total rental fee per month using the sum of the square feet shown in the previous step, and break it down for the reader. For example, explain that the initial rental rate includes X amount of square feet divided by Y dollars. Note that basic state taxes will be applied to the rental fee.
Step 5
Provide additional information about any included parking or storage spaces and the number of parking spaces available per person in the unit being rented. State if the parking spaces are available only by paying parking fees to the local government or by paying a meter. Mention that the parking spaces have been approved by the local government. You cannot rent out parking spaces if you are not entitled to.
Step 6
Outline any differences between the initial lease agreement and the renewal option agreements. For example, the tenant may have a slight rent increase, or the rental agreement may switch from a yearly period to a month-to-month agreement.
Step 7
Finish the lease proposal with a space for the property owner and the tenant to sign. The lease proposal will be in effect until a new lease for the rental space has been prepared and signed by both parties.