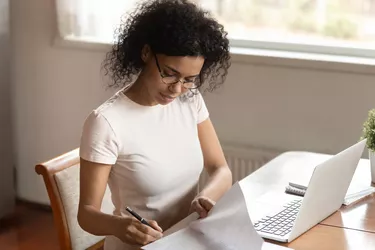 When a form asks for your PA ID number, is it asking for your citizen identification number, tax ID number, unemployment ID number or some other identification number associated with living in Pennsylvania? Finding a Pennsylvania ID number will require you to know which specific number you are looking for. There are ID numbers for everything from photo identification cards to unemployment to taxes.
PennDOT Driver's License Number
In most cases, a request for a Pennsylvania ID number is usually for your photo ID number, as issued by the Department of Transportation (PennDOT). This can be your Driver's License Number (DLN) or the Photo Identification Card Number (IDN), but either way it will be eight digits long and easily located on your identification card towards the top, immediately to the right of your photo, says PennDOT.
If you don't yet have a PA license or photo ID number, you can apply for one with relatively little fuss. You should refer to the checklist of identifying documents and acceptable proofs of identity that are required by the Department of Motor Vehicles before you go. If you have questions, call your local DMV office for guidance before making the trip.
You can visit most PennDOT DMV locations to apply for a PA state photo ID or Driver's License. In essence, you will need documents to prove your identity, including one with your picture in it, proof of Pennsylvania residency and proof of your residency status. A passport is good for several levels of this verification, and certified mail from utility companies or banks can prove residence. For your residency status, a work visa, Social Security card/denial letter or visa of similar description should suffice, but it's always a good idea to call ahead and ask, just to be sure.
Pennsylvania State ID for Taxes
If you've decided to start your own business, you may be looking for your PA Tax ID number. This is typically fairly easy to find.
Any time you file a form PA-100, which registers a business, you will be assigned a Tax ID Number (TIN), also known as an Employer Identification Number (EIN). You'll need this number for many of your business's purposes on a regular basis, including filing taxes, paying employees and applying for lines of credit for your business. You should expect a 10-digit number, unique from any other federal or municipal-issued ID number. Keep this number somewhere safe and accessible for when you need to remember or use it for your business.
PA ID Number for Unemployment
If you've lost your employment through no fault of your own, you may require assistance applying for unemployment or in determining which identification numbers you'll need to get your Unemployment Compensation Benefits in Pennsylvania. If you've been laid off or otherwise find yourself without employment, and your most immediately previous employer is registered properly, you can apply for unemployment compensation benefits (UCB).
To apply, you'll need to know your dates of employment, PA state identification number and your employer's EIN or TIN. Pennsylvania has recently moved toward a central ID number known as a "Keystone Login," intended to replace several other stand-alone logins or ID information. The idea is to centralize the information and reduce the number and variety of different login credentials the average PA resident is required to memorize or otherwise retain.