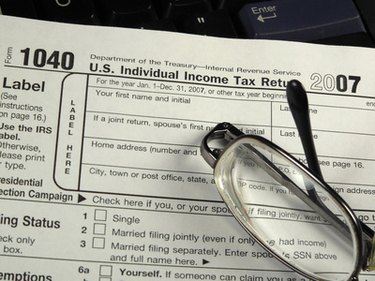 Your ID number in Pennsylvania can be used for several different purposes. Generally, the Internal Revenue Service (IRS) issues each individual a specific and unique Tax Identification Number (tax ID). The Social Security Administration issues a social security number. However, if you are filing as a business, the IRS assigns a different tax ID that is employer-specific. Finding your ID number can be completed in just a few steps.
How to Find a Pennsylvania ID Number
Step 1
Determine which specific Pennsylvania ID number you need to locate. In most cases, this will be your tax ID; however, even the type of tax ID you seek can vary.
Step 2
Look through your last year's tax filing in order to locate your social security number. If you plan to file as an individual or as the sole owner of a business, your social security number is the only ID number you need. In this case, your social security number in this instance doubles as your tax ID.
Step 3
File the appropriate forms with the IRS and the state of Pennsylvania if you plan to file as a business. Visit both websites, as they provide the information pertinent to your specific business. Once the applications are filed, you will be assigned a Federal Tax Identification Number (tax ID) or Employer Identification Number (EIN) that will need to be used on all future tax forms.
Step 4
If the process seems too complicated, visit your local Pennsylvania IRS office in order to obtain your tax ID. You can download the forms online and then bring them to the IRS office for quicker processing to obtain your EIN as well.
Step 5
If you decide to file your paperwork at the IRS office in order to obtain your tax ID, take a valid form of identification.
Tip
Make sure to keep all paperwork related to the process of obtaining your tax ID or EIN, and all subsequent paperwork containing your ID number on it for future reference.