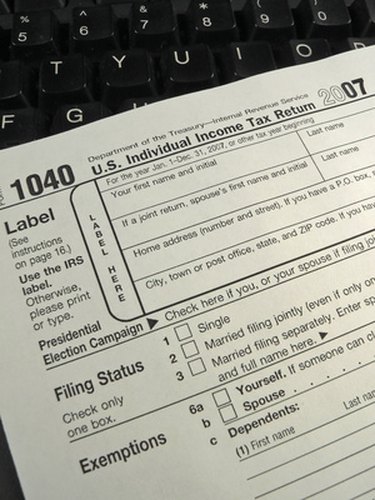 An Employer Identification Number (EIN) is a nine-digit number assigned by the Internal Revenue Service (IRS) to businesses that are required to file tax returns. These include corporations, nonprofit organizations, partnerships, churches and government bodies. If you have received income, you must report the source of that income on your tax return. You'll need the EIN of the business or organization that provided your income. If you don't have it, there are several ways to find it.
Step 1
Call the business and ask them for the EIN. The payroll or accounting department should have this information. You may also be able to find the EIN on invoices, paystubs or on other documentation from the organization.
Step 2
Navigate to the EDGAR database (see Resources). Click on "Company or fund name, ticker symbol, CIK (Central Index Key), file number, state, country, or SIC (Standard Industrial Classification)" at the top of the list, then type the company name into the search box. Click the "Find Companies" button: if the business is a publicly traded company, it will show up in this search. The company's EIN should show up on the first page of any SEC filing.
Step 3
Click on the Guidestar Link if the company is a nonprofit, then type the name of the company in the "Nonprofit Search" text box. Click on "Start Your Search," then click on the organization's name on the left. Click on the "Documents" tab. If a Form 990 is listed, the EIN will be on the front page. You'll need to register to access the information, but it is free.
Step 4
Call the Internal Revenue Service (IRS) at 800-829-1040 and ask them for the Employer Identification Number (EIN) for the organization. This may take a few weeks to process and arrive in the mail.
Tip
Check out the Reference databases available at your local public library.