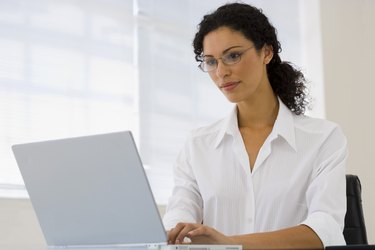 An EIN, also known as an employer identification number, federal tax ID number, or tax identification number allows your business to establish business credit, open business checking accounts, identifies your business for tax purposes, and allows you to hire employees. When you receive your EIN number this certificate is mailed to your location. Unfortunately this document can be lost. There are a few ways of obtaining your EIN certificate if you need it for record-keeping or verification.
Step 1
Contact the IRS via their 800-number and follow the prompts to speak to an agent in the Business Tax Department. The IRS agent will need your business name and possibly your Social Security number. Once your business has been verified and located in the system they will mail the certificate to the address you initially used to register your business. For security purposes, they may not mail a copy of the certificate to your new address.
Step 2
Ask the IRS agent to fax a copy of the certificate to your fax machine. Having your EIN certificate faxed will not be the original letter you received when you first obtained your tax ID number. However, it will be a letter on IRS letterhead informing your business of the request being made for a copy of your EIN number. The EIN number for your company and the letter is signed by an authorized IRS agent.
Step 3
Speak with your tax accountant or registered agent to see if he has a copy of your EIN certificate. If you hired an accountant to file your taxes he may have the original copy of your EIN certificate. Accountants would need to access this information regularly when they process your state and federal taxes. Your registered agent, who possibly incorporated your business may also have this information if you allowed him to register for your EIN number is well. Contact both to see if they can send you a copy.
Tip
Due to fraud you can not obtain your EIN certificate by going online. Depending on the time you call the IRS business tax office to obtain your EIN certificate will determine how long the hold time will be. For example during tax season expect longer than usual hold times.