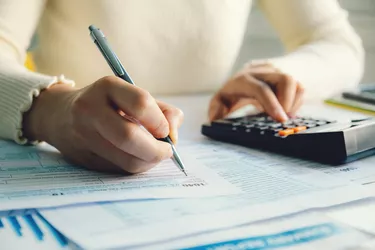 Imagine you're filling out a form when you suddenly realize that you forgot your tax ID number. First of all, don't panic – this kind of situation is more common than you think. Locating a forgotten or misplaced tax ID number is quite simple and should only take a few minutes. Chances are, you can find this information on previously filed tax returns, bank statements or pay stubs.
First, determine whether you need to find your Social Security Number (SSN), Employer Identification Number (EIN) or Individual Taxpayer ID Number (ITIN). Any of these numbers will be listed on your tax returns, but you may need to call the IRS or the Social Security Administration to ask for help.
For starters, make sure you know what you're looking for. A tax ID number is an umbrella term for several unique identifiers, such as Social Security Numbers, Employer Identification Numbers and Individual Taxpayer ID Numbers. As a U.S. citizen, you may have an SSN, an EIN or both.
If you're a sole proprietor, you may use your SSN for tax and identification purposes. Companies and organizations must apply for an EIN. This unique identifier is also required for sole proprietors who take in partners, hire employees, file excise taxes or establish a retirement plan.
No one expects you to know these numbers by heart. Ideally, you should write them down in a notebook or save them in a secure folder on your computer.
In case you ever lose or misplace your EIN, you can check your documents or reach out to the IRS. First, try to find your EIN confirmation letter – this document is sent by email, fax or post. With either option, your EIN should be listed at the top of the page. You can also find it on previously filed tax returns, business licenses, tax notices from the IRS, bank documents, credit reports or loan applications.
If, for some reason, you cannot find your EIN, call the IRS at ​800-829-4933​ between 7 a.m. and 7 p.m on weekdays.
The SSN is your personal tax ID number. Generally, it's used for tax and identification purposes, loan applications, background checks and more. You may also need this unique identifier to enroll in college or apply for Social Security benefits. Banks and other financial institutions may use it to check your credit history, notes Whitman College.
If you have a forgot tax ID number moment, simply check your Social Security card. Your SSN is listed above your name and has ​nine digits​. In case you don't find your SSN card, you may request a new one from the Social Security Administration. You can also find your SSN on bank account statements, tax returns, pay stubs and other financial documents. Another option is to ask your employer about it.
Non-resident aliens and other individuals without a Social Security Number are assigned an Individual Taxpayer Identification Number, or ITIN. Unlike the SSN, this nine-digit identifier is used for tax processing purposes only. If you lose or misplace your ITIN, check your tax returns or call the IRS at ​800-829-1040​ to ask for help.