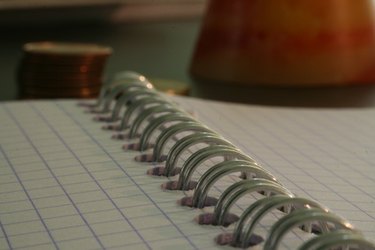 An EIN, or employer identification number, is a number issued by the IRS so that it can properly identify your business, small business, sole proprietorship, estate or non-profit organization. An EIN is used for tax purposes and business finance purposes such as business bank accounts, loans or credit cards. If you lose or misplace your EIN, or if you simply cannot remember if, you can retrieve it simply in just a few easy steps.
Step 1
Search your financial documentation. Your EIN is used to identify your business or estate not just by the government, but by businesses with which your business has financial partnerships. Check your business bank statements, business credit card or loan statements, as your EIN will appear on each of these documents.
Step 2
Use prior tax returns or IRS mailings. Pull out last year's (or any year's) federal tax return or any correspondence that you received from the IRS regarding your business. Your business EIN will be present on all of these documents.
Step 3
Call the IRS to retrieve your EIN. If you cannot locate the paperwork or do not have it available to you, you can call the IRS Business and Specialty Tax Line at (800) 829-4933 between the hours of 7 a.m. and 10 p.m. local time on weekdays only. An IRS representative will ask you personal information about your business and finances to verify your identity over the phone. You will likely need to have your social security number ready. When you are finished verifying your identity to the representative, you will receive your EIN over the phone.
Tip
Business and tax documents containing your EIN are important, and should be kept carefully filed in case you are audited or need it for some other purpose. Keep all of this paperwork in a safe place so that it can be readily retrieved for use when it is required.