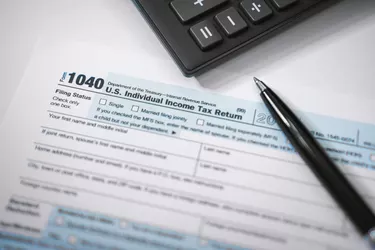 Filing your taxes is an annual chore, and it can be very stressful if you don't have all of the information you need. Many questions arise as you work your way through the process, including those like "Can you file taxes without employer ID numbers?" and "What if there is no state ID number on W2?" The excellent news is you can usually file your taxes without your employer's state ID number. If your employer has no state ID number on your W2, filing your taxes may not be straightforward, but it is possible.
Employer's State ID Number Example
The first step is to determine whether the state ID number is missing. Where is the employer identification number on W2? Your employer's federal employer identification number (also called an EIN) is in Box B of your W2 form. It is nine digits long, with a dash separating the second and third numbers.
The state employer identification number may or may not be the same as the federal number. It will be located in box 15 of your W2, especially if your state issues different numbers. Closely inspect them to see whether they are the same before entering them on any of your tax forms.
The quickest thing to do is call your human resources or accounting department. That department should be able to give you the number and remedy the situation for next year's W2. You can also use a state ID number lookup if it is missing. Nine states do not charge any state income taxes: Alaska, Florida, Nevada, New Hampshire, South Dakota, Tennessee, Texas, Washington and Wyoming. If you live in these states, you do not need to worry about your employer's state EIN.
What if There Is No State ID Number on the W2?
If there is no state ID number on your W2 that you received from your employer, the first action to take is to verify with them directly to see if they made an error. Call either your human resources or accounting departments. They may give you the state ID number or issue you a new W2 entirely. You should note that if they issue you a new W2 after you have already filed your taxes, you may need to fill out an additional form.
As you can imagine, it gets tricky when businesses expand across state lines or have employees that work in one state but reside in another. Some states allow employers to use their federal EIN for state returns to keep things simple. Typically, if your employer is required to obtain a separate state EIN for tax purposes, it will always be printed in box 15 of your W2. Otherwise, it is your employer's error, and they are liable.
Required Identification for Filing Taxes: FAQs
It's essential to understand how identity is established for the payment of taxes, and you probably have many different questions, like "Which states require driver's licenses for tax returns?" Some states require you to include some kind of identification number issued by the state, most commonly found on driver's licenses or state IDs, like the state of New York. Several other states request the information but will not reject a return filed without it. California is one such state.
You might also ask yourself, "Do I need my ID to file taxes at H&R Block and similar businesses?" The answer varies in different businesses and even from accountant to accountant, but it would be a good idea to bring government-issued identification any time you meet with your tax representative. If you live in any listed states that require an identification number, you'll need that for the tax professional.
Finally, if you're wondering if you can file taxes with an expired ID for 2021, the good news is that usually, you can, since the number on the ID doesn't expire. However, it's good practice to keep your forms of ID up to date.