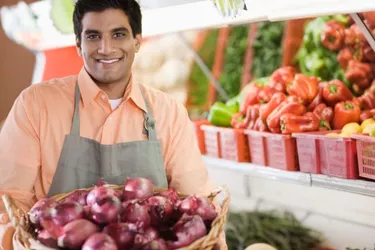 The Supplemental Nutrition Assistance Program, the name for the federal food stamp program, provides money to beneficiaries through the use of credits on an Electronic Benefit Transfer, or EBT, card. EBT cards can be used in all 50 states, and although the application and administrative processes are handled at the state level, beneficiaries are not restricted to their home state for the use of the card. To use food stamps across state borders, simply ensure your EBT has credit available to be spent, and take the card with you when you travel.
Step 1
Check your EBT account balance by viewing the account online or by calling your state's EBT customer service number. Depending on the severity of your financial situation, you will have credit available between seven and 30 days after the date of your SNAP application. After this, credit is applied to your EBT account monthly on a schedule determined by each individual state.
Step 2
Take your EBT card with you when you travel outside of your state. Note that regular monthly payments will continue to be applied following your home state's schedule as long as you continue to be a resident there. The schedule will not change if you are just taking a short trip to another state.
Step 3
Present your card at authorized retailers outside of your home state as payment for food. Note that the rules surrounding what you can buy using food stamps is the same in all states. Retailers in all states must apply to the SNAP program to be able to accept EBT cards as payment for food, so you may wish to ask the store's clerk before shopping if they accept food stamps if you are uncertain about whether or not you can use them.
Tip
As of November 2010, EBT cards are not valid for use in Puerto Rico. However, they can be used in all 50 states, District of Columbia, Guam, and the U.S. Virgin Islands.