The SNAP program, previously known as Food Stamps, offers assistance to families in need. Benefits are loaded monthly onto the recipient's Electronic Benefit Transfer card. Although SNAP is a federal program, consumers must apply directly through their nearest state agency to get benefits. Because of this, recipients often wonder if their benefits are limited to their own state. If you're planning to take a vacation, don't leave your EBT card at home, but if you're planning a permanent move, you'll need to close your benefits in your state's program and reapply in your new state of residence.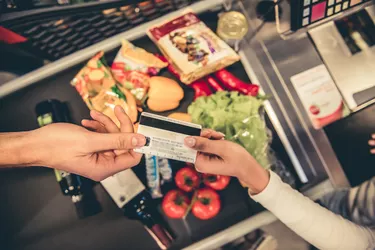 Visiting Another State
Whatever your reason for traveling, you don't have to leave your benefits behind. Your EBT card will still work, as long as you stay in the U.S. However, laws can vary from one state to the next. For example, if you're in an area that allows elderly and disabled residents to use EBT cards at certain restaurants, you may find your options restricted by leaving that area.
One major complication when traveling is that you'll be out of your comfort zone. At home, you likely know all of the local merchants that accept EBT cards. Since you usually don't have to drive around looking for EBT signs in windows, you can just limit your shopping trips to a few select stores. Before leaving on your trip, use the USDA's Retailer Locator to identify the shops in the area where you'll be staying. With that list in hand, you'll be ready to buy the food you need once you arrive.
Moving to Another State
If your trip across state lines will last more than 30 days, you may encounter difficulty using your EBT card. If you're planning an extended visit, check the state's residency rules before you leave home. If you have no plans to return to your home state, you'll need to close out your benefits there and apply as a new resident once you have identification proving residence in the new state.
Allowing sufficient time before you move, contact your state's SNAP office to let them know you need to close out your account. Although the process varies from one state to the next, many states have a form for you to fill out reporting any changes to your situation. Once you arrive in the new state, you'll repeat the process of signing up for SNAP benefits, using that state's procedure, which may differ from the one you used in your previous state.
SNAP Benefits provide essentials to families in need. If you're traveling or moving, it's important to keep your SNAP benefits uninterrupted throughout. With advance planning, you'll be able to use your EBT card wherever you go.