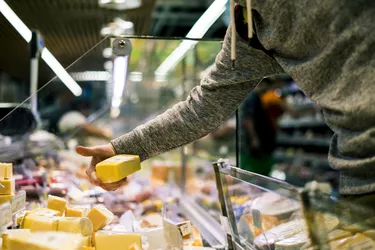 The Supplemental Nutrition Assistance Program, once known as the Food Stamp Program, provides benefits to families in need across the country. Assistance is administered through an Electronic Benefits Transfer account, which lets recipients pay for items using a card. If you have a lost food stamp card, you can replace it by contacting the local office that administers EBT cards, either by phone or in person. There may be a small fee.
Replace Lost Food Stamp Card
The SNAP program uses federal funds, but it's administered at the state level. That means the process will differ depending on where you live. If you've misplaced your EBT card, you'll need to report it as soon as possible, but you can also get a replacement card, typically for a fee.
To report a lost or stolen EBT card, call the local office that administers benefits. A full list of state phone numbers is available from the United States Department of Agriculture. If you want a replacement card, though, you may get faster results by going directly to your local office. You can find that information at the websites linked on the USDA list of state phone numbers.
Replacement Fees for Lost EBTs
Unfortunately, you'll generally be charged a small fee to replace your EBT card. You'll be able to retain your food stamp balance, though. The fee will vary from one state to the next and will typically be deducted from your cash account or the EBT balance. In Arizona, you'll pay a $5 EBT replacement fee, while in California, you'll just be charged the current cost to print a new card.
Even in states where a fee is typically charged, there may be exceptions for fees on lost food stamp cards. Massachusetts, for instance, waives its $5 fee if you need the replacement because of a disability or domestic violence. That state also won't charge you for a replacement card if you need it because you changed your name or you have a new Social Security number. However, if you request more than one replacement card within a limited timeframe, be prepared to potentially be requested to make an appointment to discuss the reason for the multiple requests.
EBT PIN Protection
Even if you lose your card, it should be protected if it falls into the wrong hands. Someone else can only access your EBT balance with the four-digit PIN you were issued at the time you received the card. As long as you didn't keep that PIN with the card itself, there should be no way for someone to use your benefits.
If you have the card but lost your PIN, you won't be able to use your card or check your food stamp balance until you change it. You can call the EBT phone number for your state and provide identifying information to reset it. If someone uses your card and the PIN, your benefits won't be replaced, so it's important to safeguard the information at all times.
Checking Your EBT Balance
It's never been easier to manage your SNAP account, thanks to technology. The FreshEBT app provides up-to-date information on a person's EBT balance and also provides coupons and job opportunities relevant to EBT users. The app works for all EBT users in the U.S., regardless of the state, and is available for both Android and iOS users.
You don't have to download an app to check your food stamp balance, though. You can usually find your EBT balance on your grocery receipts, typically printed at the bottom. Your state may also provide an online portal where you can check your balance at any time or, at the very least, a phone number you can call to get the current balance on your card.