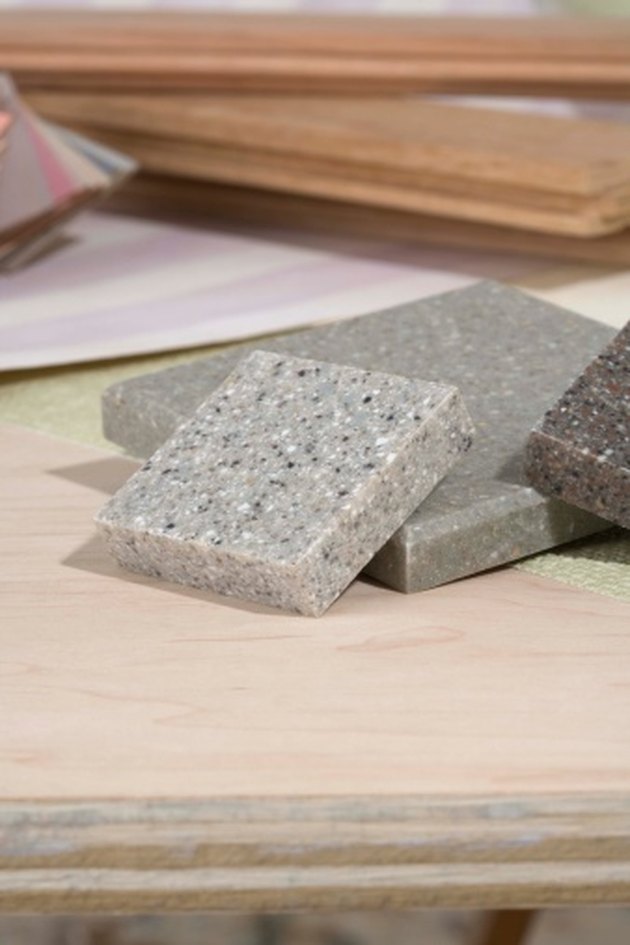 Natural granite is cut and polished and used as a high-end material for tables, countertops and floors. However, natural granite has become increasingly expensive—$100 to $300 per square foot, depending on quality—and consumers are looking for less expensive options. In response to this demand, manufacturers have developed several attractive, durable and less expensive granite alternatives.
Corian
Corian, produced by DuPont, is a solid-surface material that is used in many residential and commercial interior applications. Corian is commonly used as a granite alternative for kitchen or bathroom countertops and is also used to manufacture prefabricated sinks, bathtubs and other residential features. Modern solid surface materials like Corian are more hygienic, easier to clean and more durable than natural granite. Solid-surface materials can cost as little as $30 a square foot.
Cambria
Cambria is quartz-based solid-surface material produced by a company of the same name. This material is often called engineered stone because it usually contains more than 90 percent natural quartz stone mixed with glass and epoxy or plastic binders. Engineered stone is also more hygienic and durable than natural granite, but it is only slightly less expensive, usually selling for at least $80 a square foot.
Silestone
Silestone is another popular brand of engineered stone that is used as a granite alternative in many kitchen and bathroom applications. Silestone comes in over 65 colors so you are sure to be able to find something to match your decor. Silestone is also the only synthetic stone countertop with antimicrobial protection built in during manufacturing to provide a continuous antimicrobial effect for many years.