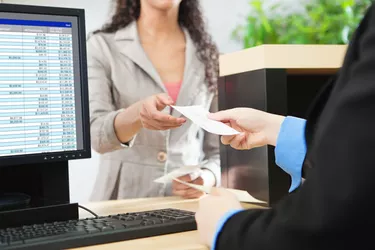 The steps involved with cashing a large check are largely similar to cashing any check. You'll most likely need ID, and you'll probably fare better if you visit the issuing bank unless it also happens to be your own bank. You might have to pay a substantial fee if you take the check to a check cashing service.
How Can I Cash a Large Check Without a Bank Account?
It's not required that you have a bank account to cash a large check if you take the check to the bank, credit union or financial institution that issued the check, according to Huntington National Bank. But other options such as grocery stores, department stores and other retailers might not work with a significantly large check.
You'll almost certainly have to provide a source of ID, although the type of ID that's acceptable can vary by bank or institution.
Where Can I Cash a Large Check?
A bank will probably be reluctant to part with a large amount of cash without any guarantee that the check you're presenting for payment is good and won't bounce, so the issuing bank should be at the top of your list. Personnel there can easily look at the checking account in question to make sure it holds a sufficient balance to honor the check.
First Quarter Finance indicates that check cashing stores will often cash large checks, but other stores won't, particularly if they don't retain large amounts of cash on premises.
Common Questions About Large Checks
Is There a Limit to How Big a Check Can Be?
The Federal Reserve Board defines a "large check" as one that's written for ‌more than $5,000‌, but this doesn't necessarily mean that you won't run into obstacles with a check for $2,500.
The limit on the amount of the check is higher – ‌$10,000‌ – if you're depositing the check to your account rather than asking for the cash in exchange for it. This doesn't mean that you can't make a check deposit for more than this amount, but the federal government will be notified.
Are There Check-Cashing Fees?
You might have to pay a check-cashing fee in a few scenarios. A check-cashing store will definitely charge you, and the issuing bank may do so as well if you don't hold an account there. The fee might be a percentage of the check amount, or it may be a flat fee.
Can I Deposit a Large Check Online?
Using your bank's website or its mobile app increases the chances of check fraud, so financial institutions tend to set limits on the amount you can deposit this way. It can depend on how long you've held your account, and there can be two limits imposed: one per day and another per month. Online banks – those that don't have any physical branch locations – tend to have more generous limits because the internet is their basis of operation.
MyBankTracker indicates that Ally Bank, an online bank, imposes a limit of ‌$50,000 per day‌ or ‌$250,000 a month‌ as of October 2022. This drops to ‌$2,000 a day‌ or ‌$5,000 a month‌ at Chase Bank, and just ‌$1,000 a day‌ or $‌3,000 a month‌ at Citi, but only if you've held your account there for ‌at least six months‌. Otherwise, it drops to ‌$500‌ or ‌$1,500‌, respectively.
How Long Does It Take For a Large Check to Clear?
HelpWithMyBank.gov warns that some banks will require notice to cash a large check and suggests that you contact your financial institution and ask in advance how long this will be. It can vary by bank.
But HelpWithMyBank.gov also indicates that the rules are at least a little more precise when it comes to deposits made to checking accounts or savings accounts. They're established by federal law. Financial institutions must make the first ‌$5,525‌ of a deposit available according to their "normal availability schedule." The time can be extended for a "reasonable period of time" for deposits of ‌more than $5,525‌, but a reasonable period is defined by federal law as being five business days or less.
And exceptions are generally made for certain types of checks. These include government checks such as tax refunds, checks where both the issuer's account and your account are held at the same institution, and for certified and cashier's checks, according to JPMorgan Chase. Government-issued checks can clear faster, but the "reasonable" time can be extended even further if you've had your account for less than a month or you've frequently overdrawn your balance.
Both personal checks and business checks normally expire after six months under the terms of the Uniform Commercial Code, according to JPMorgan Chase. Banks ‌can‌ cash or deposit a check after this deadline, but whether they do so is left up to their own policies. Checks from the federal government are good for up to a year.
Is There a Way to Cash a Check Without the IRS Knowing?
The IRS enters the picture when a check or cash totaling ‌$10,000 or more‌ is deposited, according to SoFi. The bank or business must file IRS Form 8300, notifying the agency of the transaction or transactions. The form reports your name, address and Social Security number to the federal government, but you'll most likely never hear a word from them unless you're engaging in money laundering or fraud.