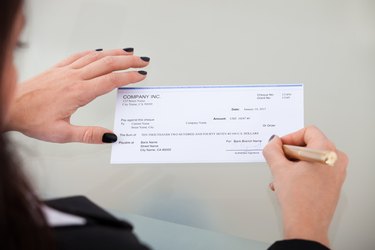 Check cashing stores and services are common options for households the Federal Deposit Insurance Corporation refers to as unbanked and underbanked. The types of checks accepted, and procedures for a turning a check into cash, vary between businesses that function as bank alternatives and businesses that provide check cashing services as a customer convenience.
Acceptable Checks
The type of check you plan on cashing can determine where you should go. Most check cashing stores accept both high-risk and low-risk checks, while check-cashing services typically accept only low-risk checks. High-risk checks are handwritten personal checks, business checks and third-party checks. Low-risk checks are government benefit checks, tax refunds, payroll checks, certified checks and money orders.
Identification Requirements
Many check cashing stores have an account registration requirement. In addition to photo identification such as a valid driver's license, you'll need to provide contact information like your mailing address, telephone numbers and email address. If you use a check cashing service, you'll only need to bring along a photo ID.
Processing Fees
Prepare to pay a fee no matter which option you choose. According to Financial Service Centers of America, the national trade association that represents alternative financial service centers, check-cashing stores usually charge a fee of 1 percent to 3 percent of the face value of the check. In contrast, check services typically charge a flat fee that depends on the amount of the check. For example, as of publication date, the Walmart Money Center charges up to $3 for checks under $1,000 and up to $6 for checks from $1,000 to $5,000.
Payment Options
Most check-cashing stores and services offer the option to get cash or add funds to a prepaid debit card. Depending on the amount of the check, adding funds to a debit card can be a safer option because it means you won't leave the facility with a significant amount of cash in hand.