Cashing a large check can get you cash immediately rather than forcing you to wait for a hold on deposits to lift, or may be a necessity if you don't have a bank account. While there are no federal restrictions on cashing checks as long as specific conditions are met, the institution that facilitates the transaction may delay the delivery of cash under certain circumstances. Non-bank options for cashing checks can set their own policies and limitations.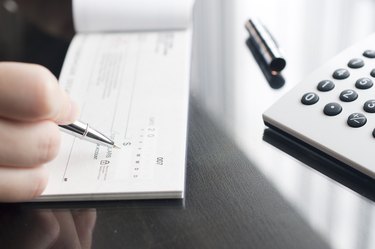 Conditions for Cashing a Check
According to the Consumer Financial Protection Bureau, a check can be cashed for any amount if it is written on an account from the institution where it is being cashed, there is enough money in the account to cover the check, the check is dated within the last six months and the person cashing the check presents a valid ID. While a bank or credit union usually will be required to accept any check as long as these conditions are met, there may be limitations on when the institution releases the funds.
Cash Limitations at the Bank
For security and cash management purposes, banks and credit unions tend to carry enough cash to service day-to-day operations but may not have enough currency on hand to cash a large check. Depending on the size of the check and the procedures of the institution, meeting the demands of cashing a large check may take from one day to two weeks. To find out how long the financial institution will take to cash a large check and advise it of your intentions, call ahead to allow for arrangements to be made for it to have enough cash on hand to satisfy the check.
Fraud Concerns
Banks are well within their rights to protect their customers. As a result, they are given a great degree of flexibility in taking actions that can be deemed reasonable and prudent if there is any suspicion or possibility of fraud. For example, when a large check is presented to be cashed, a bank can delay the process by requiring that a manager speak to the writer of the check. If you know you'll be cashing a large check, you may be able to ensure a smooth transaction by having the check writer call the bank in advance or be available to accept the bank's call to verify the legitimacy of the check.
Non-bank Options
In addition to banks and credit unions, checks also may be cashed at check cashing stores and retailers including Walmart, 7-Eleven and <ahref="http: www.marketwatch.com="" story="" kmart-announces-1-or-less-check-cashing-fee-nationwide-2014-07-17"=""> </ahref="http:>Kmart. Each type of establishment sets its own policies regarding the size and types of checks that can be cashed. For example, Walmart cashes a variety of pre-printed checks — including tax returns, payroll checks and cashier's checks — with a maximum amount of $5,000. The retailer increases the maximum for cashing tax return checks to $7,500 from January through April. Kmart offers check cashing for its Shop Your Way members, with maximums of $2,000 for government and payroll checks and $500 for personal checks.
Fees for cashing checks can be charged based on a percentage of the check amount or a flat fee, so it pays to shop around for the best deal.