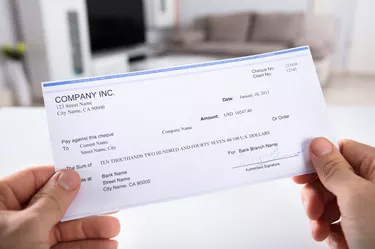 When cashing a large check, a financial institution doesn't have a maximum amount. But you may have to wait until the next business day to receive your cash. The bank or credit union will want to ensure funds availability before giving you any amount of cash. There is a maximum limit for online banking.
Cashing large personal checks or cashier's checks may not be an everyday occurrence, but if you need to make these kinds of high-dollar withdrawals, you want to make sure you're not limited by an arbitrary maximum amount. There are some rules to large check cashing that you should be familiar with.
Rules for Depositing or Cashing Large Checks: What to Know
When making a check deposit of large amounts of money, it could take more than two business days to clear. A large check is any amount over $5,000. Fortunately, your bank or credit union doesn't have deposit limits, so you can deposit your large check into your bank account worry-free. There will be a hold on the check, but once it clears, it's in your bank account.
But if you are cashing a personal check for large amounts of money, you may have to wait before you can take your cash home. This is because the bank will put a hold on the check until it clears. It usually takes two business days for a check to clear.
But contact your financial institution. The hold time might vary if your bank or credit union is unfamiliar with the check issuer or if the check is for large amounts of money. They'll want to make sure there are enough funds to cover the amount of the check.
Cashing Checks for Large Dollar Amounts
If you cash a check for large amounts of money, your member FDIC financial institution will want to place a hold on the check. They do this with all account holders to protect against an overdraft.
A check written up to $200 is not considered a large dollar amount. The financial institution will have the funds available to you the next business day.
A dollar amount of $5,000 or more is considered a large check. If you deposit or cash over $5,000, you may wait up to nine business days for the full dollar amount.
A check for $20,000 or more will have a hold placed on it if you go to cash it at a bank or credit union. It can be up to 14 business days.
If you go to cash a personal check for $100,000 or more, there will be a hold placed on the check for 14 business days.
Common Questions About Large Checks
It's good personal finance to know about check cashing. And if you are in a situation where the check is made out to a large amount of cash, you'll want to know how to cash it. So here are some frequently asked questions.
How Long Will It Take for a Large Check to Clear?
One FAQ that often comes up is how long will an account holder have to wait to get their cash. If the check is under $200, it should be available the next business day. But a larger dollar amount could take up to 14 business days.
A money order doesn't have to clear. It can be cashed immediately.
Wait a few days if you have deposited a cashier's check for it to clear. Most financial institutions will hold any amount over $5,525.
Can I Deposit a Large Check Online?
You can make a mobile check deposit, but there are limits. Online banking usually has a maximum monthly amount that can be deposited. For instance, Bank of America has a limit of $10,000 per month on accounts opened for three months or longer. Contact your bank or credit union if you have questions.
What Is the Cheapest Way to Cash a Large Check Without a Bank Account?
One inexpensive way to cash a check is to go to the issuing bank or credit union. They may or may not charge you a small fee.
Retailers like grocery stores or Walmart offer check cashing services.
You can also go to a check cashing store. Check cashing stores usually charge one to four percent of the check amount.