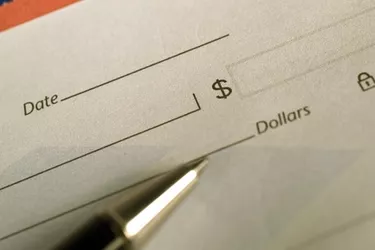 Checks can be a handy way to transfer money, pay rent or carry funds. In Canada, cashing a check doesn't have to be challenging. With proper identification or a Canadian bank account, almost any check can be cashed. Verify each individual bank's check-cashing policies before using their services.
Check Holds
Canadian banks can hold a check for seven business days to ensure that the funds have cleared. This was reduced in 2007 from 10 business days. Banks are required to inform customers of their check-holding policies.
Banks may hold checks to make sure the check writer has sufficient funds and to verify that a "stop payment order" hasn't been put on the check. They may also want to verify that it is a legitimate check.
Government Checks
All financial institutions in Canada must cash your government checks for free. You do not need to be a member of the bank to cash these checks. You do have to show identification. If the check is over $1,500, or the bank thinks it is fraudulent, they can refuse to cash it. However, the bank must give you a letter explaining that they have refused to cash your check.
Payday loan companies are allowed to charge their usual fees for cashing all checks, including government of Canada checks.
Pay Checks
Banks have the right to refuse to cash a pay check or personal check unless it is issued by the Canadian government. Check-cashing regulations for non-government checks are set by individual banks.
Personal Identification
To cash a check at a Canadian bank that is not your personal banking institution, you will need to show personal identification that has your photo and signature on it. If you do not have one piece of ID with both your photo and signature, you will have to show two pieces of ID. Identification can be a driver's license, passport, Social Insurance Number (SIN) card, health card or credit card.
If you are cashing a check at your regular bank, you can verify your identity by using your debit card or giving the teller a personal code. Some banks will cash checks if someone at the bank is able to verify your identity. This is more likely in small towns.
Personal Bank Accounts
All Canadians have the right to a personal bank account as long as they can provide the necessary identification. Citizens do not need to have a minimum balance or make an income.