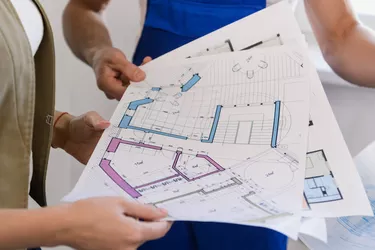 Whether you are trying to obtain a building permit or looking to sell your home, you may need to obtain a plot plan for your property. Sometimes referred to as a site plan or house site plan, these plans are a necessary step in the construction process. But why would you need to obtain one? And if you do, where can you find a copy?
A site plan is a map of the building site. According to Picket, Ray & Silver, it illustrates how the structure fits on the property, containing essential information necessary for construction. While most are 2D aerial maps, some are 3D maps that provide a detailed view of the landscape, parking and other outdoor structures.
House site plans are used by county governments to ensure that state and local building codes are followed, as well as serving as a building or property's historical record. They are also used by real estate agents to emphasize selling points.
House site plans contain essential information on the lot and the building's characteristics. They include property lines and setbacks, surrounding structures and dimensions, easements, construction limits and lay down areas, driveways, parking, streets and ground signs, fire hydrants, landscaped areas and existing and proposed structures.
Why Would You Need a Site Plan?
You may need to acquire a site plan of your property if you are considering making changes to your property. Local governments often require property owners to obtain building permits for construction, which can only be done if site plans are submitted beforehand, so the town can gauge whether these changes are feasible and up to code.
Some insurance companies require copies of site plans to insure the property, such as flood insurance. Other times, you may need to acquire a site plan when you're buying or selling your home.
There are some cases where you will need to draw up a new site plan. You will need to produce a plot plan for your house if one doesn't already exist or has been lost, if significant changes were made to the property since the last plan or if you wish to construct a permanent addition to the property, such as a deck or in-ground pool, 24hPlans writes.
Obtaining a Free Site Plan of My Property
There are several avenues you can choose when trying to obtain a free site plan of your property. The first place you can look for a plot plan for your property is within your own home, where you stored your closing documents. Site plans are often included in the closing documents provided to the buyer.
You can also obtain a copy from the bank or title company from which you took out your mortgage. As 24hPlans notes, most banks require site plans before lending. You could also try the local county office. Whenever a home is built or sold, site plans are submitted to the county for record-keeping purposes. Check with your county to see if you will need to pick up a copy in person or if you can request online.
If the options above don't pan out, you can locate the property builder or developer to see if they can provide you with a copy. Lastly, you can contact the seller or the seller's real estate agent. If you are unable to track down a copy, you may need to have a new site plan made.