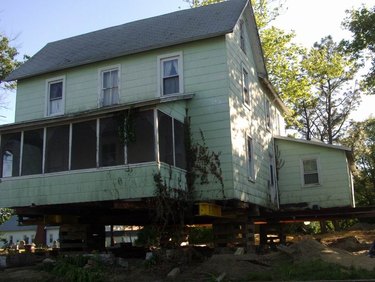 When you're in the market for a house and not finding what you need, where you need it, remember a less-common house-buying option: relocating an existing house. There are many great houses that are a bit older but are still beautiful and a real bargain, if you know what it takes to buy a house to be moved.
Step 1
Find a house. You can look on websites that offer houses for next to nothing or even for free if someone will take them away. You can also look for houses in your area by talking to real estate agents and builders who may know of a house that is available to be moved.
Step 2
Find a bank to finance a house loan. Some banks will consider financing a house to be moved, especially if you point out that most house movers insure the moves until the house is attached to its new foundation.
Step 3
Consider the costs. You will have to pay for the house to be moved and all of the permits and fees associated with the relocation. You will also have to pay for land that the house will be moved to, plus a foundation to be built. You may also have to do some reconditioning and updating on the house.
Step 4
Plan to move the house close by. In the West and Midwest, there are fewer obstacles in the way when moving a house. But the East Coast is more crowded, and moving a home far away or into suburban areas may be more difficult or impossible, with all of the power lines, phone lines, bridges and overpasses, and other obstacles.
Step 5
Buy the land where the house can be moved permanently. Consider the size and location of the lot as well as any local rules: Different cities have different regulations and building codes for houses being moved onto a lot in their jurisdiction.
Warning
Buying a house to be moved can sometimes cost more than buying a house that is already in place.