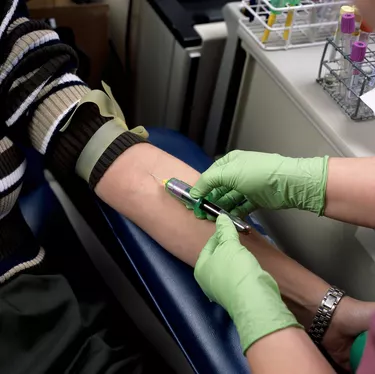 If you want to make some extra money and help out people in need in El Paso, you can donate plasma at an area plasma donation center. The compensation amount varies by donation center, with an average of $60 per donation, as of 2010. You can donate plasma twice per seven-day period with at least 48 hours between donations. You should drink plenty of water and eat two hours before making your plasma donation. Donating plasma in El Paso is no different than donating in another city.
Step 1
Identify local plasma donation centers in your area by using BloodBanker and Talecris Plasma Resources websites (see Resources). In El Paso, Talecris Plasma Resources has four locations, and there are other plasma donation centers, such as United Blood Services and the West Texas Blood Center.
Step 2
Visit an El Paso plasma donation center during normal business hours, which varies by donation center. Let the desk clerk know that you are there to donate plasma and that it is your first time.
Step 3
Fill out the medical history paperwork and submit to the medical tests that are required before a plasma donation. The tests include blood pressure, pulse, temperature and weight. You may not be allowed to donate if you are not at least 110 lbs., a U.S. citizen, between the ages of 18 and 65, pregnant, have high blood pressure, have certain illnesses like diabetes or a blood disease, have low protein or have had a tattoo in the previous 12 months. You can also be denied for other reasons at the discretion of the donation center.
Step 4
Make your donation, if you pass all of the tests. Typically plasma donation takes between one and two hours.